London is the one of the most diverse cities in the world. Only 45% of Londoners are white, compared with 86% of residents of England and Wales. It has a huge and established alternative gay scene (pdf), there are 100 different languages spoken in almost every London borough, it is the most religiously diverse in the country, and 37% of the population is foreign-born.
It turns out residents may have always been this way. 
Researchers from the Museum of London, University of Durham, and McMaster University, used DNA analysis and other skeletal evidence to reveal—in remarkable detail—the earliest inhabitants what would become London, founded by the Romans around 50 AD.
They found that none of the four individuals were born in London: two had probably originated from outside Europe, another was thought to be from continental Europe, and only one is likely to be a native Brit.
Researchers speculate that one male may have been a gladiator, from his violent death and the fact that his skull was found near London's amphitheatre. His DNA shows that he had black hair and brown eyes. His skull has features that suggest a European ancestry, with DNA analysis showing his family originated from somewhere in Eastern Europe.
The Harper Road woman is is even more fascinating—thought to originate from Northern Europe, a teeth analysis indicates that she was likely born in Britain. But while her skeleton showed female characteristics, her chromosomes were found to be male. Issues that we're still grappling with today.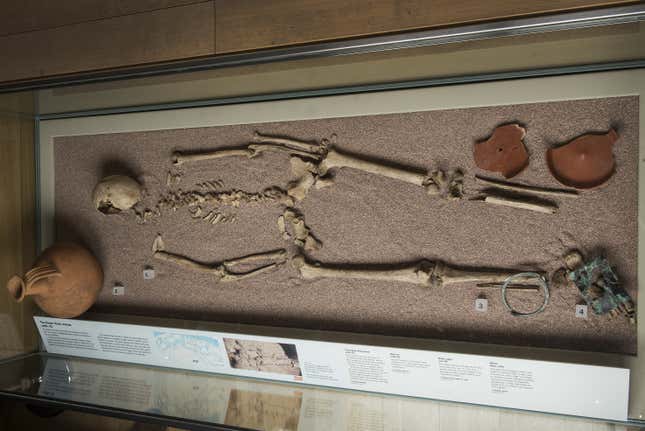 The Harper Road woman was buried in a wooden coffin with dishes, a mirror, and a necklace. Researchers note that the act of burial was unusual at the time when cremation was popular.
Another skeleton was a teenager who had probably grown up in North Africa. She was buried in on a bed of chalk, which researchers note was a North African custom. She was buried with two glass vessels at her head and a folding knife by her hip. Researchers speculate on whether the Lant Street teenager was part of a military community, as either the daughter of a soldier, a young wife, or even a female slave.
The final of the four individuals was buried between 180-400 AD and, as he was not buried with any objects, it would have previously been difficult for researchers to reveal his identity. Researchers say this find is a "lucky dip" that otherwise would have fallen "between the cracks of history"
New DNA analysis shows he had dark brown-black hair and brown eyes. The shape of his skull has some features associated with African populations, and his DNA analysis suggests he originated from Europe or North Africa.
Dominic Perring, director of the Centre for Applied Archaeology and Archaeology South-East at University College London, tells Quartz that previous inscriptions from burials and temple have hinted that the city's inhabitants came from different parts of the world.
The population had reached 45,000 by 122 AD—as Perring says, "the cosmopolitan nature" of ancient London should come as no surprise as Londinium would have drawn on people from all over the Roman Empire. But though the population of London is now 8 million, it seems it hasn't changed all that much in character.