Trade routes that dominated global shipping for decades continue to suffer from the impact of the financial crises of the last five years. But new regional pockets of trade are picking up steam.
A case in point is the world's largest container shipping line. AP Moller-Maersk spotlighted ongoing weakness in European imports as a hindrance to Asia-Europe trade in its earnings report. Total Asia-Europe trade volumes were up a piddling 3% in 2012.
However, intra-Asia volumes surged ahead by 19% in 2012, compared to the year before. That helped drive the total share of intra-Asia volumes within Maersk up to 7%, from 6% in 2011. Check it out.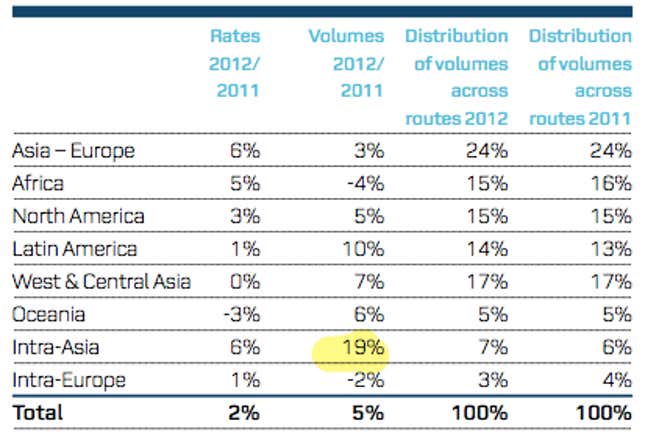 We've seen similar patterns emerge in other areas of the world of transportation. For instance, Asia-Pacific airlines are increasingly reorienting themselves to service a burgeoning market for first-time fliers at home, rather than battling for share in saturated western markets.
Some see the surge in intra-Asia trade as one impact of the China-ASEAN free trade pact that went into effect in January 2010. As such, the US and other global powers want to make sure they preserve their influence amid the emergence of a genuine trading bloc in Asia. That helps explain the Obama administration's high profile "pivot" to Asia, which encompasses Friday's planned visit between Japanese prime minister Shinzo Abe and President Barack Obama. A key point on the agenda is expected to be the proposed "Trans-Pacific Partnership" or TPP, a free-trade deal between Asia, South American and US nations, which the US hopes Japan will sign on to discuss.