The United States has arrested 71 people on charges connected to the activities of the Islamic State since March 2014, including 56 this year—a record number of terrorist arrests since the September 11, 2001 attacks. A new study from George Washington University outlines the demographics of the people arrested, which paint a chilling picture of ISIL's recruiting efforts.
"While jihadist causes have lured American recruits for several decades, the surge spurred by the rise of ISIS and its sophisticated marketing of its counter-culture to impressionable Americans is unprecedented," the study says.
The group is so diverse, ranging from a 15-year-old boy to a 47-year-old Air Force Veteran, that it makes it hard for authorities to find a solution to preventing their radicalization. They come from different states, socioeconomic and ethnic backgrounds, "defying any cookie-cutter profile of the American ISIS supporter," the researchers say. They include college students, teenage girls, and a former fundamentalist Christian, from all over the United States.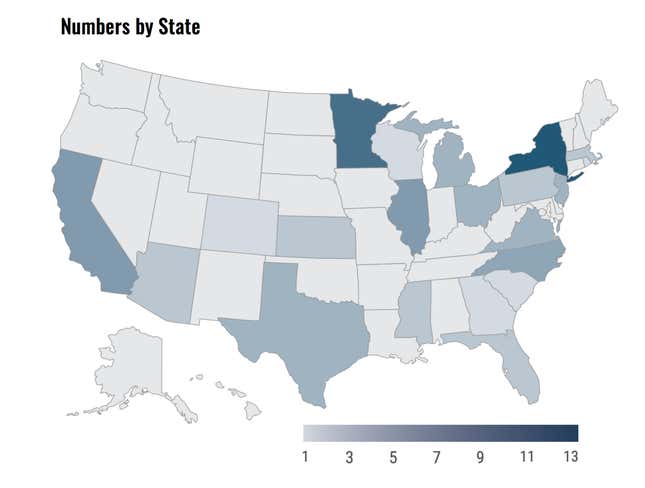 The study does identify some broad trends. The recruits are young, on average 26 years old; 86% are men, and the overwhelming majority are US citizens. It confirms data from a previous study from March conducted by Fordham University's School of Law.
As of this fall, authorities mention a total of about 250 Americans who have either traveled or attempted to go to the Middle East to join ISIL, and 900 active investigations against the organization's sympathizers across the country.
American ISIL supporters, far away from the battlefields in Syria and Iraq, are active on social media, especially Twitter, "where they spasmodically create accounts that often get suspended in a never-ending cat-and-mouse game," the study says. It's may be hard to tell who will make the leap from online fanboy to armed militant, but the US government's methods of determining and arresting alleged recruits have been criticized in the past, for overblowing the threats they posed or for coaxing them into illegal territory where they might not have ventured on their own.
The number of ISIL supporters attempting to go overseas has dropped in recent months, authorities say. As the New York Times points out, that's a worrying trend, as ISIL's new message to its supporters is to stay in place and carry out attacks at home.