People living in Beijing may have thought that pollution was bad already, but it seems worse is still possible. The city's authorities have issued a "red alert" for the next three days, commencing at 7am local time on Dec. 8.
Beijing was placed in November on orange alert, one level below red in a four-tier system, and, as the BBC reported, pollution readings today (Dec. 7) were actually slightly lower than in previous days.
But the new red alert means more serious actions will have to be taken—all with implications for the city's productivity, as well as its people's health. Schools will be forced to close. Outdoor construction work will halt.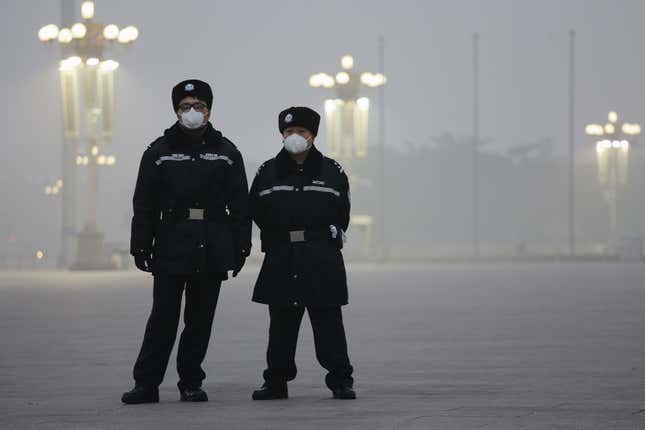 The cloud is choking the city. The big problem is particulate matter smaller than 2.5 microns in diameter, which is capable of entering the lungs and even the bloodstream and causing serious health effects.
The particulates, which reached "very unhealthy" or "hazardous" levels in 28 cities in northern China in November, are caused to a large extent by man-made pollution, including the burning of fossil fuels.
China is the biggest consumer of coal in the world, by a long way.
When the red alert goes into effect, so will traffic restrictions.
"Construction waste, excavation transport vehicles, cement trucks, gravel transport vehicles and other large-scale vehicles are prohibited from driving on roads," the Chinese authorities said in a notice, according to Reuters. And cars with odd- or even-numbered plates will be banned on alternate days.
As for the coal-fired power stations? They're still running, with thousands more planned to be built in the coming years. At a climate conference in Paris, where China is negotiating with the rest of the world on emissions, that strategy is getting harder to argue for. After this week, the idea may be harder to sell in Beijing, too.