As the Paris climate change summit kicks off, China, the world's leading carbon-emitting country, is choked in pollution. The Ministry of Environmental Protection said Sunday (Nov. 29) (link in Chinese) that heavy smog had covered China's north, including Beijing, for three days in a row. The haze had reached 530,000 square kilometers ( 204,634 square miles) by Nov. 28.
That is even bigger than the total area of Spain, or California.
The air quality index (AQI) for the fine particulate matter known as PM 2.5 had reached "very unhealthy" or "hazardous" levels in 23 cities in the combined Beijing-Tianjin-Hebei area and surrounding regions on Nov. 28, the ministry said. At one time on Nov. 29, PM 2.5 in Beijing reached 429 micrograms per cubic meter, 17 times the recommended limit by the World Health Organization. The reading of Beijing's AQI was still "hazardous" at 2pm Hong Kong time on Nov. 30, according to air quality monitors: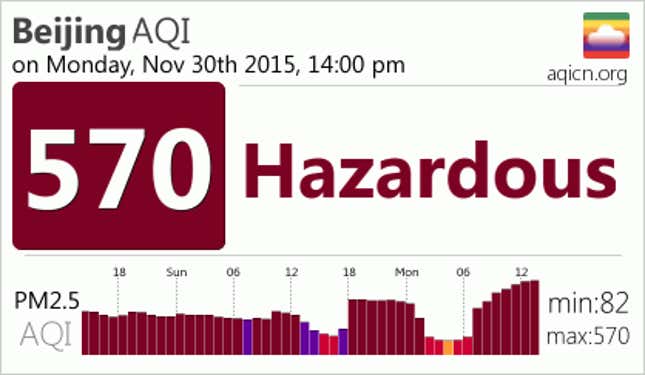 Here's a weather satellite imagery from Hong Kong Observatory taken at 12:30 pm Hong Kong time on Nov. 30 that gives some indication of the dark smog currently hanging over northern China.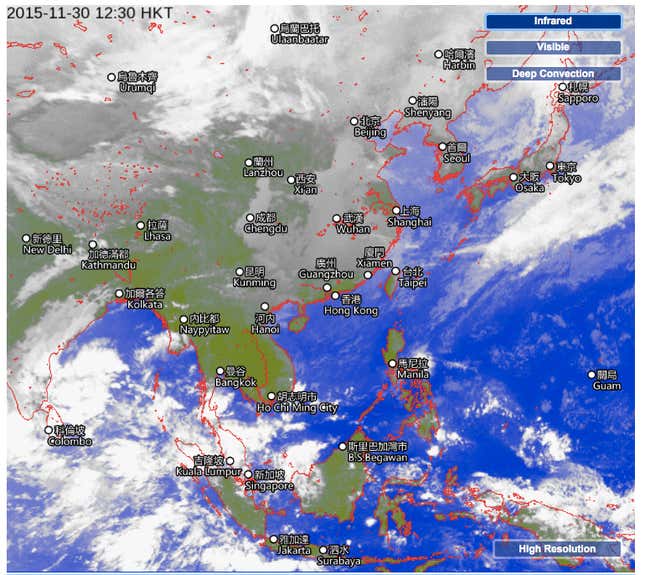 You can watch as the dark patches over the Beijing and Harbin remain motionless, while white clouds higher in the atmosphere move through the area, on this Japan Meteorological Agency satellite animation of the past 24 hours.
Pollution hit northern China earlier this month after coal-powered central heating kicked in. Beijing has issued an "orange" alert—the highest smog alert so far this year—and urged residents to stay indoor. Factories have to reduce production and construction sites and heavy vehicles are banned under the orange alert.
The most effective thing to clear pollution, though, appears to be a strong wind. Luo Yi, head of the environmental monitoring department of the ministry, said the polluted days will continue in northern China until cool air and gales sweep the region on Dec. 2, bringing AQI back to "good" or "moderate" levels.