The "World Internet Conference" that kicked off today (Dec. 16) in Wuzhen, China, has many of the modern trappings of a tech conference: a snappy social media hashtag (#WIC2015), a kinda-snappy slogan ("An interconnected world shared and governed by all"), lots of tweeting media, and a live-stream broadcast of at least one speaker.
But it is missing some fundamental things too. Like… high-level government officials from large sections of the world. China's state media report that eight heads of state or leaders from foreign countries will attend:
Russian prime minister Dmitry Medvedev
Pakistan prime minister Nawaz Sharif
Kazakhstan prime minister Karim Massimov
Kyrgyzstan prime minister Temir Sariyev
Tajikistan prime minister Kokhir Rasulzoda
President of Pakistan Mamnoon Hussain
First deputy prime minister (and finance minister) of Uzbekistan Rustam Azimov
Siaosi Sovaleni, the deputy prime minister of the Kingdom of Tonga
Here are the countries they represent on a map (excluding the Kingdom of Tonga, which is too small to be shown):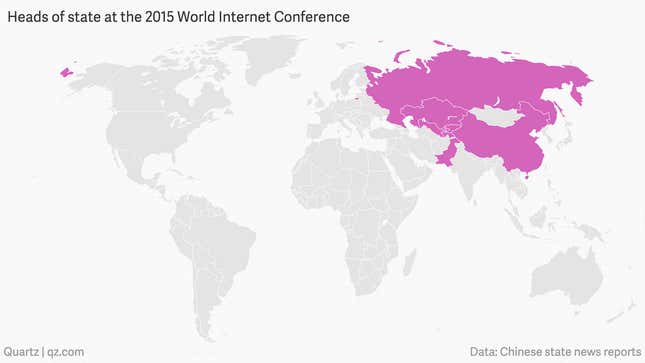 Who is going? While Xinhua reports that 2,000 people will attend from 120 countries and regions, the full guest list itself no where to be found. (At least one group, reporters for the New York Times, are excluded).
Last year, high-level representatives from outside China's borders were pretty thin—speakers from non-Chinese companies and institutions were limited to Qualcomm, LinkedIn, and a few trade groups. This year, at least according to the available agenda online, the speakers list is packed with Chinese government officials and company executives, but also includes Airbnb CEO Brian Chesky, Wikipedia founder Jimmy Wales, Netflix CEO Reed Hastings, and representatives from Facebook, Sequoia Capital and others.
Although the Chinese government maintains strict controls over the internet, the country has about 680 million citizens online, the most of any country in the world. That helps explain why tech companies are flocking to the conference—whoever they may be—even though there's not that much global about it.
Echo Huang contributed reporting.