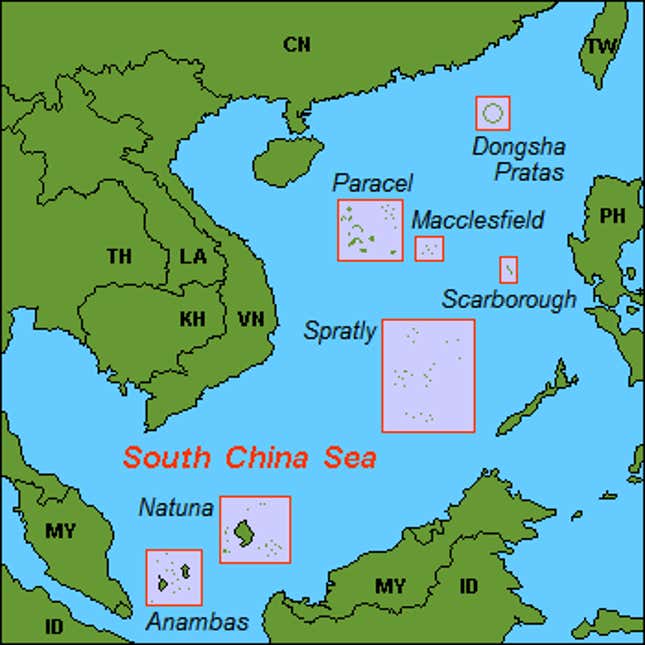 The Natuna archipelago, a remote part of Indonesia in the South China Sea, consists of about 280 sleepy islands. Inhabitants there survive mostly on fishing or farming. It seems an unlikely place for a military buildup, but this week Indonesian defense minister Ryamizard Ryacudu told Kyodo News that his military plans to send soldiers, three warships, and a fleet of fighter jets to the islands, as well as upgrade a small military base there.
The increased militarization of Natuna is Indonesia's latest move to strengthen its defenses in the South China Sea, where it has begun to challenge Beijing's claims that about 90% of the highly trafficked waterway is Chinese territory.
Indonesia may be partnering with Japan as it does. Ryacudu will be part of "two-plus-two" security talks in Tokyo today (Dec. 17). The discussions involve the foreign and defense ministers of Indonesia and Japan, which is peddling military hardware in the region, thanks to the lifting of a ban last year that had prevented it from doing so. Part of Ryacudu's visit to Japan could involve a trip to a manufacturer of amphibious aircraft, reports the Japan Times.
Indonesian air force commander Agus Supriatna said the defense ministry will spend more than 200 billion rupiah ($14.2 million) to strengthen the base on the Natuna islands. "We aspire to turn Natuna Air Force base into an integrated military base—the Pearl Harbor of Indonesia," he told Antara last month.
So how, exactly, do the islands justify such attention? "We have to strengthen our military capability to anticipate any threats like illegal fishing, or something like illicit intrusion, and many kinds of nontraditional threats entering into our territory," Ryacudu told Kyodo.
Foreign fishermen, of course, are not the main problem. Beijing is. Based on an obscure map it drew after World War Two, China claims a huge sweep of the South China Sea that intersects with the territories of various nations, including Vietnam, Malaysia, and the Philippines. (The latter is challenging the legality of China's claims in an international tribunal.)
In Indonesia's case, the "nine-dash line" on China's map intersects with part of the its territory (an exclusive economic zone) around the Natuna islands. After Jakarta sought clarification—and raised the possibility of legal action—last month China acknowledged Indonesia's sovereign right to the Natuna islands. But Indonesia is beefing up its presence nonetheless.
Meanwhile Beijing has been aggressively building manmade islands atop reefs in the sea's Spratly archipelago—complete with a lighthouse and runway—hundreds of miles away from China's legal shores, at least based on standard international conventions. The US considers the South China Sea to be international waters, and in recent months it has sent warships and bombers near the artificial islands to emphasize that and exercise its freedom of navigation.
Besides being rich in natural resources, including oil and natural gas, the South China Sea is arguably the world's most important body of water for international trade—and, potentially, future military conflicts.