In news that will shock no-one, earning a Crimson pedigree may be the surest-fire way to amassing greenbacks. Almost 3,000 graduates of Harvard University are worth more than $30 million (each), according to rankings compiled by market research firm Wealth-X seen by Quartz, and most of them earned the money themselves. That's more than twice the number of what Wealth-X calls "ultra-high-net-worth individuals" (UHNWIs) produced by any other institution in the world. (The report, by the way, counts both undergraduate and graduate degrees.)
That Harvard's a multi-millionaire factory probably surprises exactly no one. But here are some report findings that might:
Of course, the top of the list is rather dense with Ivy. But even among top schools, wealth varies greatly: while the University of Pennsylvania and Columbia University graduated a combined 2,390 UHNWIs, Yale, Princeton and Cornell count among them only 1,604, in total.
Of the US schools in Wealth-X's Global top 20, just three are public: University of Virginia, the University of Michigan and University of California, Berkeley.
At least in the US, having a business school probably helps. The top five on the global list—Harvard, Penn, Stanford University, Columbia and New York University, in that order—all have top-flight MBA programs. Of the top 15, only Princeton lacks a B-school. On the non-US list, meanwhile, France's Insead and LBS are both exclusively graduate business schools.
Proximity to Hollywood and Silicon Valley may help, as well, though. Combining Wealth-X's lists of public and private universities, the ranking Californian schools put out the most UHNWIs, with 4,672 of them—more even than posh school-dense Massachusetts, which produced 4,198.
Nearly one-quarter of Brown's and Cornell's UHNWIs' ultra-high net worths came exclusively from inheritance. And around two-fifths of the super-rich from Penn, Columbia, Northwestern and Boston University made the list thanks to old money alone.
What of the nouveau riche? At the University of Virginia, which also happens to be the highest-ranked public university, some 78% of the über-rich were self-made. Harvard, Chicago, Princeton and New York University were close behind.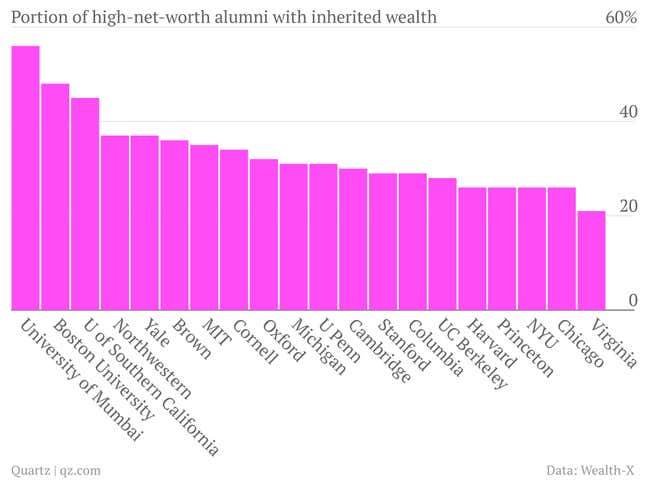 Women who want to strike it rich should consider Northwestern and Brown Universities—almost 15% of their UHNWIs are women, compared with 2%-4% for the University of Chicago, MIT, and Yale. But in terms of raw numbers, Harvard produces the most ultra-affluent women: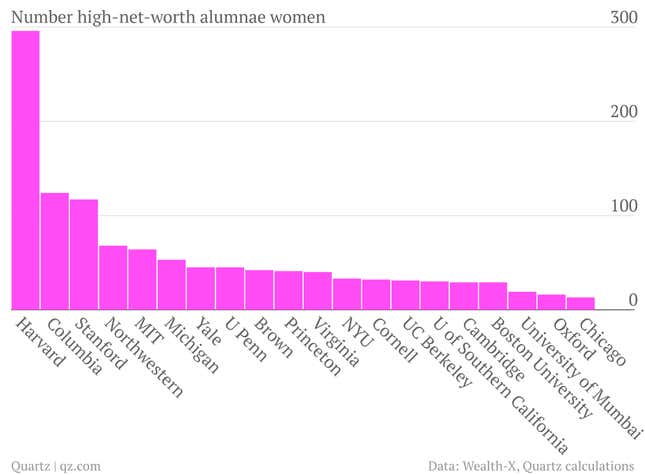 On the international list, Australia's Monash University has the highest proportion, with 17%.
The UK is churning out top-earners too, though. UHNWI alumni of Oxford and Cambridge totaled 401 and 361, respectively, breaking into the global top 20. And Wealth-X's non-US ranking included four more: the London School of Economics, Imperial College of London, the London School of Business, and University College London.
The University of Mumbai was the only university outside of the US and the UK to make the top 20, with it 372 UHNWIs worth a combined $37 billion.
Of emerging-market universities, India's University of Mumbai and University of Delhi produced 601 super-rich alumni, while China's Tsinghua and Peking Universities together graduated 291.
In addition to simply having the most UHNWIs, Harvard also boasts the most billionaire alumni—52 of them, to be exact. But in the top 10 of UHNWIs from schools that made Wealth-X's list, it only has one (Brazil's Jorge Lemann, who just co-bought Heinz):