China is such a big buyer of luxury goods that the country's economic slowdown this year put a serious dent in some companies' sales. On Dec. 15, Prada reported a 38% drop in its quarterly profit owing largely to a slump in China, and Burberry's struggles in the country have been enough to frighten investors at times.
But 2015 is just one year, and in the long run, luxury brands' prospects in China are actually quite good, thanks to China's mushrooming middle class.
As WWD reports (paywall), equity research firm Morningstar predicts that the country's middle class will gravitate toward more frequent purchases of "aspirational luxuries" as it grows. The number of households that the firm identifies as "lower middle class" will expand from 32 million in 2012 to an estimated 133 million by 2022. The "comfortable middle class" will balloon from 13 million to 31 million. Combined, that's a boom over 10 years of 119 million new middle-class households.
To give that some context, the report defines "lower middle class" as earning 100,000-200,000 yuan per year ($15,400-$30,800) and "comfortable middle class" as earning 200,000-500,000 ($30,800-$77,000). That's a lot of collective cash that these households may be looking to spend, even despite slowing economic growth overall.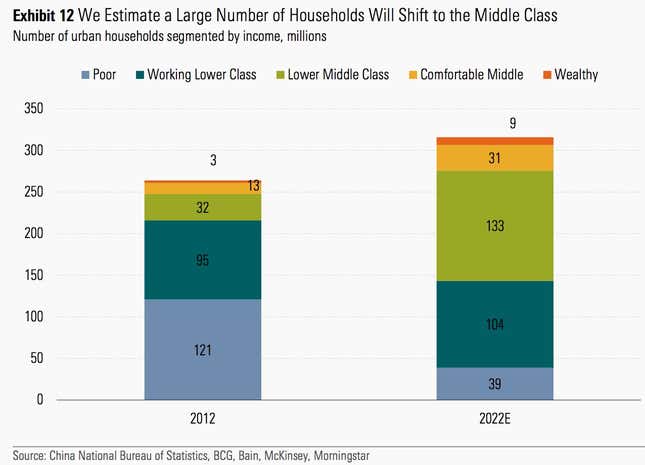 While it's true that China's reported GPD growth of about 6.9% is hard to believe, and that it's likely slowing more than China admits, it's still on the rise. Morningstar's own research "suggests GDP growth is more than 2% lower than official figures," but even so, it predicts Chinese spending on luxury will grow at a rate of 8% per year, including purchases inside the country and out.
Morningstar isn't the only firm that thinks China's growing middle will be good for luxury in the long-term. When China devalued its currency back in August, causing a slight panic among luxury investors, Deutsche Bank decided to size up the situation. It was clear there would be some volatility in the short to medium-term, but the opinion looking ahead was much more sanguine. "The powerful demographics of China's middle class should continue to provide fuel to luxury demand growth for many years," the report stated.
The brands best positioned to take advantage, in Morningstar's opinion, are ones that are expensive but not too expensive, including labels such as Ralph Lauren, Coach, and Tiffany. They'll be the ones that shoppers choose for their first luxury purchases, since they're still affordable compared to brands such as Gucci. And it helps that they're not highly exposed in China either, just yet, giving those brands plenty of room to grow.
Burberry, which has made the majority of its sales in the Asia-Pacific region since 2013, is another potential winner. Though a little more expensive than the brands already mentioned, it's still a bit less than other European labels. It also has the advantage of a strong digital strategy, which should help as all those middle-class households shop more online.