This post has been corrected.
One of David Bowie's most famous outfits remains a multi-colored, one-legged, knit leotard. Improbable as it seems, the asymmetrical bodysuit, worn by the singer when he performed as alter ego Ziggy Stardust, caused such a stir in the 1970s that magazines published knitting patterns for eager fans to make versions of their own.
Those fans, it's worth noting, were men as well as women.
David Bowie, who died Sunday (Jan. 10) at the age of 69, didn't only change music in his astonishing 50-year career. He had a huge impact on style that continues to resonate. It wasn't just through the outrageous personas and wardrobes that he embraced over the years—as David Cameron, the British Prime Minister, said on Twitter after news of Bowie's death, he was "a master of reinvention, who kept getting it right."
Bowie challenged the idea of what a man—or anyone, really—should look like, a debate that persists in fashion today.
Bowie never resembled the male stars of his time. Lanky and androgynous, he didn't exude the traditional masculine appeal of men such as Paul Newman or Steve McQueen. Neither did he have the seething sexuality of rock 'n roll frontmen such as Mick Jagger or Robert Plant. He was stranger, more cerebral. But his willingness to embrace his oddity made him all the more attractive.
"I felt very puny as a human," Bowie once said. "I thought, 'Fuck that. I want to be a superhuman.'"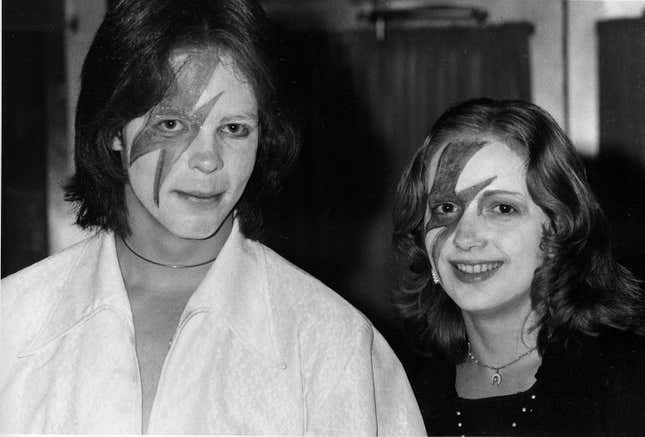 Refusing to apologize for his appearance made fans feel they could do the same. At the 2013 opening of a major retrospective of his work at London's Victoria & Albert Museum, British artist Tracey Emin remarked of Bowie (paywall), "Whenever I felt alone or weird or fucked up, David Bowie was someone that I could relate to."
Weird was something Bowie certainly didn't shy away from. At the time of his legendary Ziggy Stardust period, Bowie was fascinated by Japanese fashion, which was still relatively alien to Westerners in the years before Yohji Yamamoto and Comme des Garçons rose to prominence. He turned to avant-garde Japanese designer Kansai Yamamoto, who created Bowie's famed leotard as well as other exotic costumes for live performances.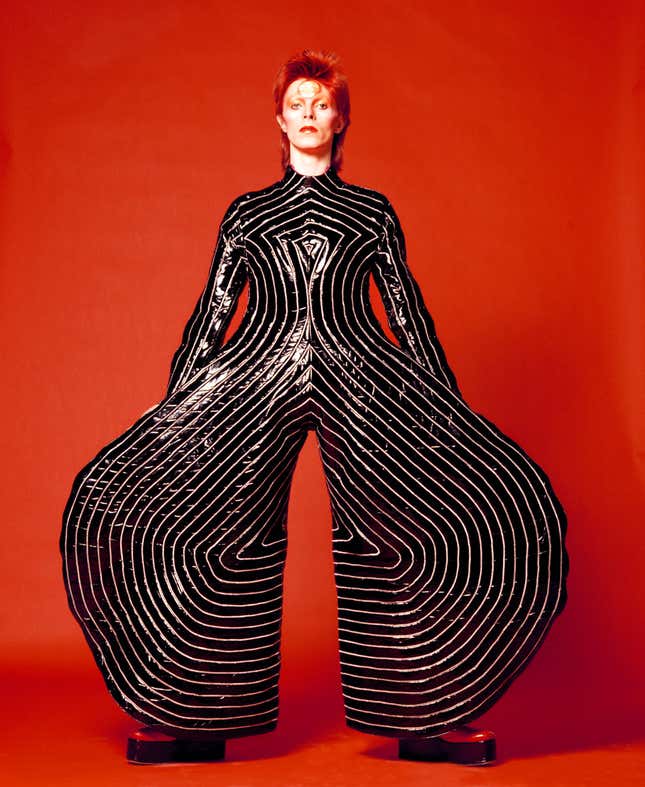 By that point, Bowie had gone through a previous phase as a dreamy bohemian, with long, languid hair and a habit of wearing women's frocks. It's a look that, deliberately or not, Gucci's new creative director, Alessandro Michele, often echoes in his own gender-agnostic work. Bowie's glam look pushed androgyny further, adding makeup to the mix.
 The recent era of ultra-skinny menswear owes a great debt to Bowie's "Thin White Duke" persona. In a recent interview, Hedi Slimane, the creative director Saint Laurent, who with Raf Simons is credited with slimming modern menswear, cited Bowie as a direct influence:
There is that idea of androgyny, which is associated to my silhouette and design since the late '90s, and I presume a reflection of how I was, and how I looked growing up, the lack of gender definition. I could recognize it and feel a connection at the time with "The Thin White Duke" character of Bowie. This is pretty much the origin of everything I did in design after that, a boy or a girl with the same silhouette.
Whether they know it or not, men pulling on their skinny jeans and narrow suits have been doing so at least in part because of David Bowie and his refusal to conform to gender stereotypes.
These qualities made him an outsider: a man who fell to earth, to borrow the title of his 1976 movie, rather than one who belonged here. But for others who recognized themselves in him, both men and women, he wasn't an outsider at all.
"For me, David Bowie's greatest significance was not only as a musician or outstanding performer but that he brought together millions of people across different generations, beliefs and interests all around the world," Martin Roth, director of the V&A Museum, told Quartz in a statement. "He was a true pioneer and his death is a loss to us all."
For the weirdos in the world, he was one of us.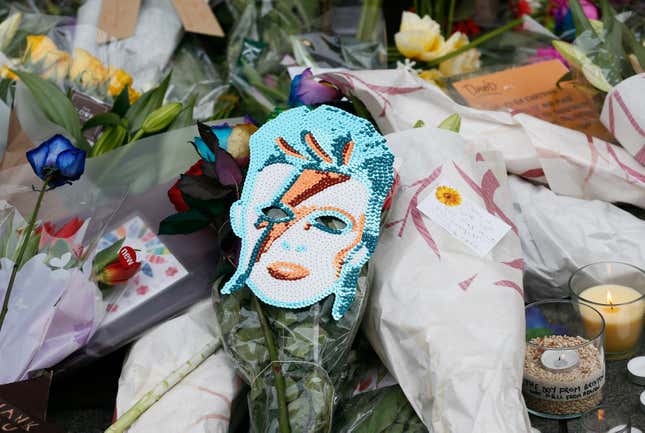 Correction, Jan. 11, 3:43pm EST: An earlier version of this post incorrectly stated the date of Bowie's death.