Even conservative forecasts for YouTube's new paid service could mean a significant impact on Google's bottom-line, Credit Suisse said in a note to clients Tuesday (Jan. 12). It's so bullish on Google's prospects as a result that it lifted its price target for Class A shares in Alphabet, Google's holding company, from $850 to $900. The stock currently trades at less than $750.
YouTube Red, which launched in October, charges users $10 a month for videos without ads. This could help the streaming platform grow revenue per user by as much as 12 times, translating into $1 billion in revenue in 2016 and as much as 4.5% of Google's operating income by 2022, Credit Suisse estimated. What's more, most of YouTube Red's profits would flow straight to Google's bottom line because there's little cost incurred by running the self-serve subscription business, the analysts say.
To get those big numbers, YouTube Red wouldn't even need to be a huge hit with its users. The analysts are assuming that just 3% of YouTube's 1 billion users will buy subscriptions. That isn't a stretch when compared to subscriber numbers at other streaming platforms. The note cites Pandora's 5% and Spotify's 25% conversion rates as examples.
YouTube Red's prospects for making money means that Google a few years from now might look like a very different company. Instead of a firm that relies mainly on its search business to generate cash, in six years, a quarter of its revenue might come from non-search businesses, which include YouTube and its Google Play store.
Growth from YouTube will be a key element for Google as its overall revenue begins to slow. In fact, it'll be so important that Credit Suisse thinks revenue growth from YouTube and the company's ad serving unit DoubleClick will be what reverses this deceleration, at least for the next two years.
To be sure, YouTube Red itself is forecasted to account for only about 20% of the video platform's total revenue–the bulk will still come from in-stream ads–but that's an additional $6 billion that could be added to the business unit's revenue stream.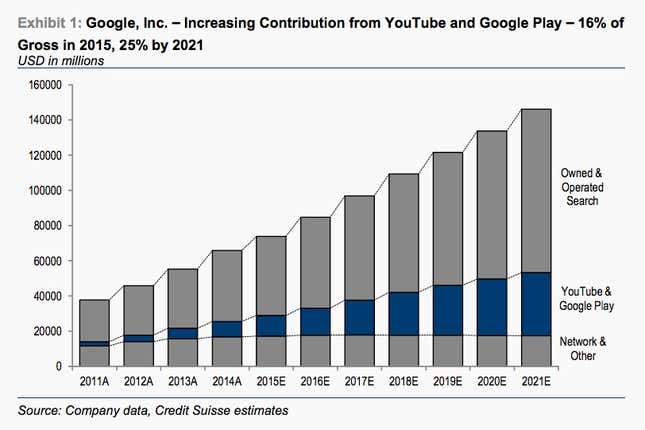 By these projections, YouTube Red probably won't be a big challenger to Netflix, which already has about 10 times the number of paid subscribers. But it could be a serious growth driver for Google as it diversifies away from search revenue.