The National Football League—a league of men governed mostly by men—now has its first full-time female coach. The Buffalo Bills have hired Kathryn Smith as a special-teams quality-control coach, the team announced on its website Wednesday (Jan. 20).
Smith worked for the New York Jets in various departments over the past 13 years; first starting as an intern in 2003 before moving to the team's player personnel department in 2007. In 2015, she joined the Buffalo Bills as an administrative assistant to head coach Rex Ryan–for whom she had worked in New York when he was head coach there.
"Kathryn has been a part of Rex (Ryan's) staff for the past seven years and has proven that she does excellent work," Kim Pegula, who co-owns the Bills with her husband Terrence, told the Associated Press. "While we understand the significance of this announcement, it's important to understand that Kathryn earned this position because she has shown she is qualified, dedicated and puts in the work needed for this role."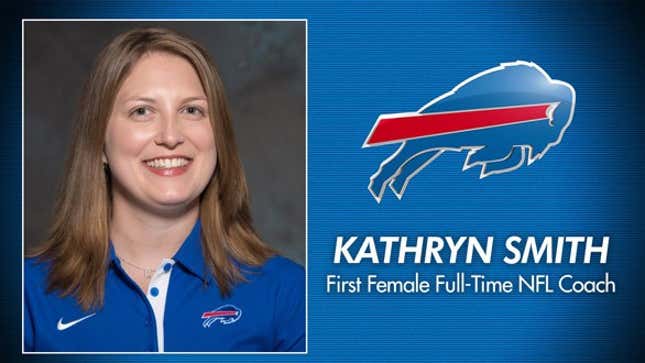 Last year, Jen Welter became the first woman to coach in the NFL when the Arizona Cardinals made her a training camp linebackers intern. That position, however, was temporary.
Smith's role for the Bills will be to assist in special teams game-planning and player development. "Special teams" is the name for the unit of players on the field for kicking plays, like field-goal attempts and punt returns. She's replacing Michael Hamlin, a former NFL player.
There are a number of women in high-ranking positions in NFL front offices, but Smith is the first to have a full-time role on the field. It's much-needed progress for the "manliest" of American sports leagues, but it's still a league that often ignores—if not demeans—its female fans, who account for nearly half of the NFL's 150 million devotees.
Elsewhere in American sportingdom, women have increasingly been hired in important roles. Last year, the San Antonio Spurs of the National Basketball Association made Becky Hammon the head coach of its summer league team. She promptly led the team to a championship. Major League Baseball's Seattle Mariners hired Amanda Hopkins as a full-time scout—the first female to hold that position in the league in 60 years.