One of the most important parts of a fashion designer's toolkit is proportion. Shorten here, extend there, tighten up, or let out, and you can reinvigorate a tired shape. Much of what designers do is simply tweak and fiddle with existing silhouettes.
One particular tweak stands out lately, especially among brands considered among fashion's coolest: impractically long sleeves.
Straitjacket long. So long they make hands non-functional. The look has been creeping up for a couple seasons now, but on the runways of the fall 2016 men's shows in Paris, which began Jan. 20 and run through Jan. 24, the trend has reached new prominence.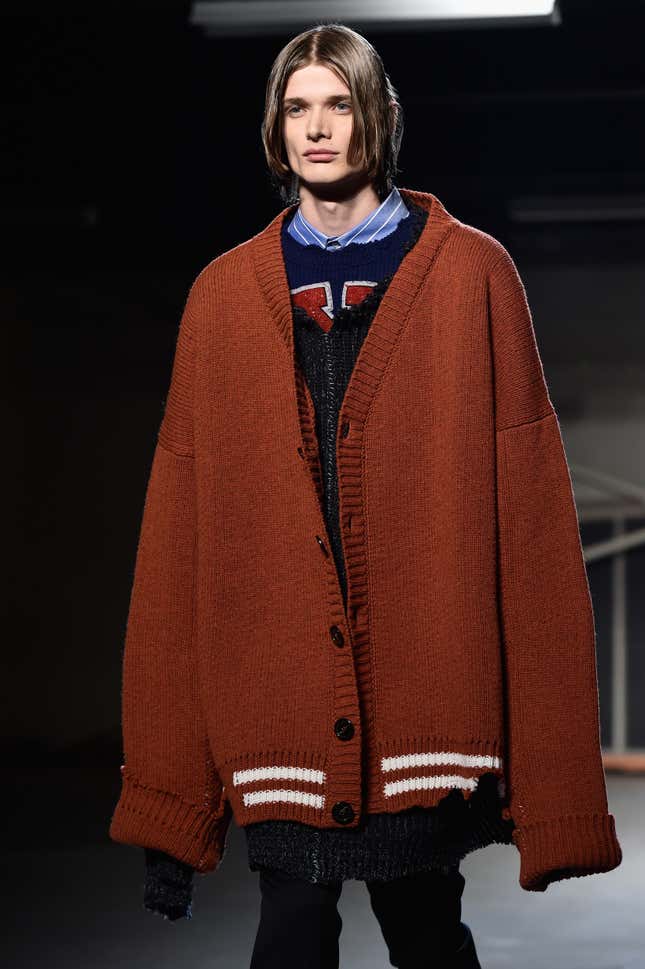 Raf Simons, in his first collection for his eponymous label since stepping down as creative director of Dior, opened his show with a tattered, dramatically oversized sweater. It was large all around, but most notable were the sleeves, which dangled nearly to the knees. More big sweaters, cardigans, and coats followed, many with sleeves that completely covered the wearer's hands.
At Gosha Rubchinskiy's show, the budding Russian designer showed slightly less exaggerated proportions: A few large leather jackets covered the hands, but only just. Shirts, meanwhile, offered a second opening in their extra-long sleeves that allowed the hands to peek out.
Maison Margiela just let the hands stay tucked like a groundhog in its hole, during its show today (Jan. 22).
Martin Margiela, the label's founder, actually deserves much of the credit for the current style. Back in the 1990s, Margiela caused a sensation with his raw, primitive clothes—and their experiments in proportion, such as extra long sleeves.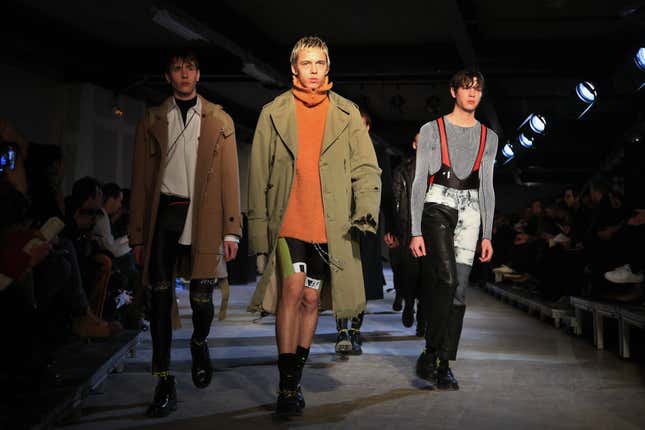 Simons names Margiela as an inspiration for his new collection in the press notes. The influence is also evident in Kanye West's brand, which has previously shown overlong sleeves, and in Vetements, arguably the coolest label in fashion right now, and the vanguard of a resurgence in gritty, deliberately unsophisticated looks.
Among many others, Vetements' fans include singer Rihanna, who's been spotted in a hand-hiding Vetements hoodie. The label's leader is Demna Gvasalia, who was recently appointed creative director of Balenciaga. Not by coincidence, he's also an alumnus of the Margiela label, and one of the brand's signatures has become its purposefully "off" proportions. That extends to sleeves as well.