Go figure. In October, McDonald's debuted all-day breakfast across the US—and just like that, that the long-ailing company produced its best quarter in four years. The rebound makes all-day breakfast, which McDonald's itself identified as "the primary driver" of its results, a rare silver bullet for a beleaguered corporation. And it probably has you wondering: Why didn't McDonald's do this sooner?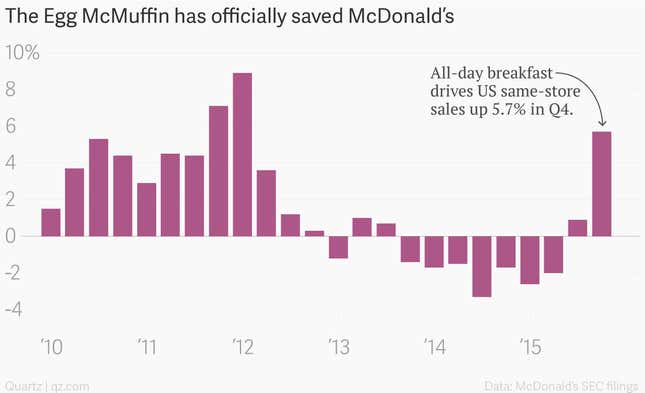 That's actually a question that a lot of people have asked—so many people that McDonald's used to address the issue on the FAQ section of its website. The answer: We don't have space in the kitchen.
"Here's the thing: it comes down to the sheer size of kitchen grills," McDonald's explained. "They simply don't have the room for all of our menu options at one time—especially considering we use our grill to prepare many items on our breakfast menu."
McDonald's spent years sticking to this rationale. In September 2006, then-CEO Jim Skinnner commented at a conference that his friends often asked why breakfast wasn't available throughout the day. "Well, it's not compatible with our current operating system," he said. "It's too complicated to deliver the high quality product that we deliver at breakfast."
But dining habits were changing, and analysts worried that McDonald's might suffer from a new class of consumers who didn't just want lunch at noon, dinner at 6pm, and breakfast until 10:30am. Breakfast was a lone bright spot—a market that kept growing even as other meal categories stagnated.
McDonald's knew this. It had been serving up Egg McMuffins and other breakfast items since the early 1970s, and mornings were consistently among the strongest parts of its business. Shifting consumer habits might have been hurting lunch and dinner, but they were only benefiting breakfast. In early 2008, then-company president Ralph Alvarez told analysts, "the biggest thing we see with our breakfast structure—it no longer comes just at the rush we used to get. It's very steady throughout the hours we're open."
Still, on all-day breakfast, the Golden Arches kept dodging.
"Well, that's—it's something that we haven't really done any extensive testing on, and we'd have to see how much that would stretch our capacities," Steve Plotkin, longtime president of McDonald's west division, said after earnings in November 2009. He noted that McDonald's had already stretched its breakfast hours by starting at 5am in most stores and even earlier in some 24-hour locations. "We have been very good at being able to concentrate on our breakfast at breakfast, when most of the people are there," Plotkin said. "I think if you look at what we've seen out of some of the competition who 'has breakfast all day,' they really don't sell that much of it."
And again from Skinner in 2010: "Breakfast is a difficult business to be in … It takes a full commitment. It takes staffing commitment. It takes an attitude commitment about being the best you can be at that time of the morning and opening earlier and doing whatever."
So when McDonald's finally (!) said last March that it would begin testing all-day breakfast in select markets, it was a big deal. A decades-in-the-making big deal.
Yes, the kitchens really were too small, and it reportedly cost between $500 and $5,000 to upgrade each one. But all-day breakfast was far from impossible. And it's undoubtedly paying off.