Millennials are pushing companies to redefine their goals, mostly in good ways, business leaders say. But the generation's desire for autonomy is a big risk for the pipeline of future leaders, and especially women, according to Catherine Engelbert, chief executive officer of Deloitte, the accounting and consulting giant.
When "women stay out of formal economy, they become part of an off-balance sheet economy," Engelbert said at a breakfast briefing in Davos during the recent gathering of the World Economic Forum. "They miss the opportunity for leadership development skills."
Deloitte conducted a survey of 7,700 millennials from 29 countries, and found that one in four wants to quit his or her job within a year, and 44% in the next two years. By 2020, only 16% expect to be at their current company. Women are more likely than men to have jumped shipped by then.
This "remarkable absence of loyalty" among the younger generation is a "serious challenge" for companies, given that in many countries millennials now make up the largest segment of the workforce, the report says. Millennials feel underutilized as leaders and disconnected from goals that focus on profits ahead of values, conduct, and ethics, the survey found.
Women who step off the corporate ladder because they feel underutilized risk getting trapped in a vicious cycle: they are lauded for sticking to their beliefs, but by going "off-balance sheet," achieving gender parity in the executive ranks will be much harder.
Engelbert spoke frankly about her own career and the challenges she faces managing men and women.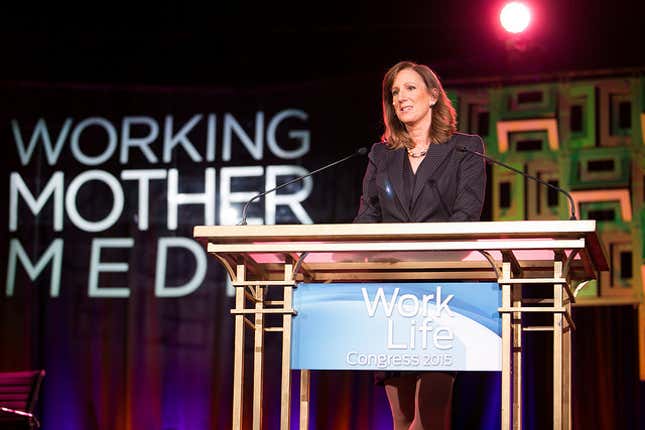 She rose to the top of a male-dominated profession with a lot of help from men, she said. Engaging men in the battle for parity was a big theme at Davos, with 10 major companies pledging to disclose data about hiring, retention, and leadership with an aim to achieve gender parity in pay, representation, and other dimensions in the next few years.
Engelbert also explained how she almost threw in the towel at one point, convinced she could not "have it all."
"I was pregnant, I stepped back, I was 33," she recalled. "I said 'do I think I can do all of this?'"
Weighing in on this ever-controversial question for professional women, she noted that "you can't have it all at the same time." A better question is, "Can you do it all, defined by you?" she said.
Engelbert supports making changes to workplace practices to accommodate the needs of women. Companies need to help women speak up more, and step up for senior jobs when they become available, she said. Last year, 66% of Deloitte's hires were women and minorities, and 50% were millennials.
Asked what the genders could learn from each other, she said women need to learn more self-promotion from men and men need to learn more about the importance of collaboration and team building from women. "It's important to think through how we develop our women. They apologize for everything. A man doesn't walk in and say he is sorry."
I'm sorry to say I think she is right.