More than 70 years after her death, beloved children's book author Beatrix Potter has her fans in a frenzy. The creator of the classic Tale of Peter Rabbit, about a mischievous, hungry rabbit, and over two dozen other titles, has a new book set for release in September 2016.
The Tale of Kitty-In-Boots, about a "serious, well-behaved" black cat with a secret crime-fighting double life, is already eleventh on Amazon UK's bestselling books list at time of writing, just two days after the announcement of its release on Jan. 25.
The long-lost book came to light when Jo Hanks, UK publisher of Penguin Random House Children, found a sketch of the cat and several manuscripts in the archives of London's Victoria and Albert Museum two years ago. She had been set on its trail after catching a reference to the unseen story in a letter from Potter to her publisher in 1914.
The story stars Miss Catherine St. Quintin, a polite cat who goes by "Kitty" and dons a "gentleman's Norfolk jacket and little fur-lined boots" at night and chases bad guys with an air rifle.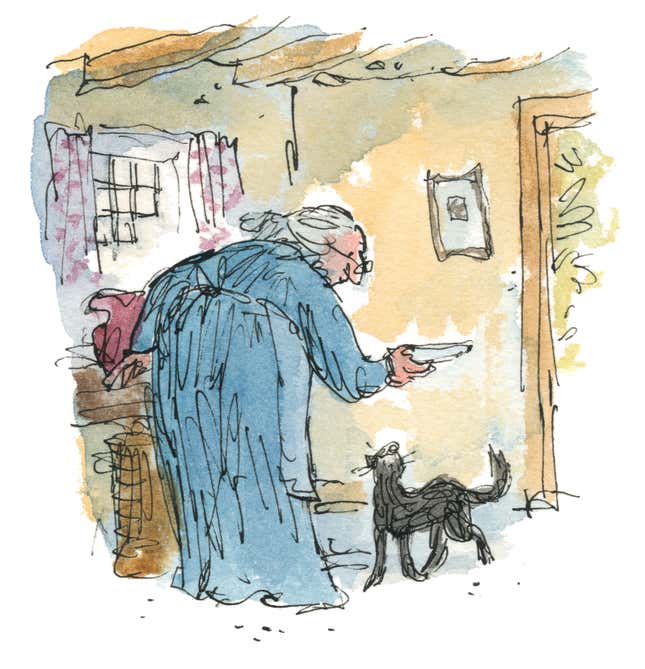 The book will be published by Frederick Warne & Co, an imprint of Penguin Young Readers, with illustrations by celebrated cartoonist Quentin Blake.
With the book set to release this year to mark the 150th anniversary of Potter's birth, the story has the whiff of two books  by beloved authors published last year: Go Set a Watchman, Harper Lee's "sequel" to To Kill a Mockingbird, published despite shaky provenance, and Dr. Seuss's What Pet Should I Get?, discovered posthumously in a shoebox.