The Amhara Plateau is no one's idea of a gloomy landscape. Rich fields blossom as far as the eye can see; bountiful rivers zigzag through the region's rolling hills. It isn't hard to see why local Orthodox Christians believe the Ark of the Covenant was floated down the Nile from Egypt and ended up here. Nor why desert raiders continually stormed in off the nearby Sahara for hundreds of years.
But to those who farm the fertile reaches of Western Ethiopia, their home environment is growing a good deal less enticing by the day.
Erratic temperatures and rains, which culminated last year in the total failure of the belg, the short rainy season, have struck locals hard. In a country still scarred by the deadly famines of the 1980s and 90s, reduced crop yields are panicking villagers, almost all of whom rely on agriculture for their livelihoods.
"The rains are very weak and in winter the cold is like nothing I've seen before," said Barakat Daniel, gesturing at a mostly empty trench he uses to irrigate his teff crop on a muddy hillock just outside Bahir Dar. "It's a hard life."
For some ambitious young men, conditions have long since crumbled to intolerable levels. They've tired of tilling land that's become harder to farm as older farmers sub-divide their already small holdings into miniature plots for their many children. With population growth overwhelming meager services at the same time as intense weather plagues farmland, more and more people from the region appear to be following the example of refugees from violence-afflicted parts of Africa, and making a break for Europe.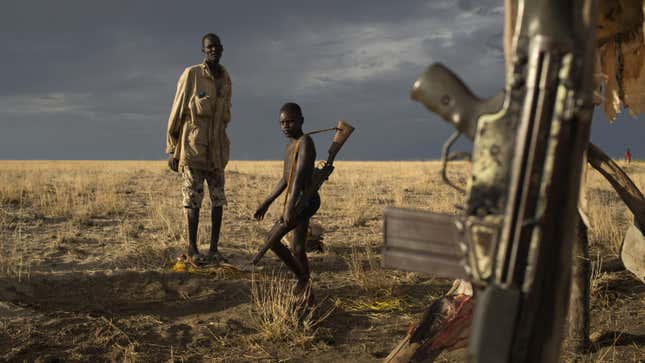 Last July in Metema, an Ethiopian border town, where Sudanese flout their country's prohibition on alcohol by darting across the frontier to patronize streetside bars, I met a 22-year-old man who gave his name only as Gebremichael. He was waiting to cross into Sudan. "Why am I going?" he said. "Because I'm trying to improve myself and that's just not possible when your land gets worse and worse." He had toted a moth-eaten German language dictionary around for over a year, working to absorb new words at every available opportunity.
These days, climate change is in vogue. Everything from the war in Syria to unrest in West Africa has been laid at the feet of the weather gods. Some of the claims have been dismissed as spurious. But there's plenty of evidence that migration in sub-Saharan Africa is indeed partly due to extreme weather.
70% of the continent's migrants have left their homes because of poverty or a lack of work, according to research provided by the UN Environment Program (UNEP). An estimated 64% of Africans—and close to 90% of Ethiopians—earn their living from agriculture.
"Considering the very low baseline, where 25% of the continent go to bed hungry, where over 50% live on less than $1.25 per day, and where youth unemployment is at 60%, climate induced declines in productivity in the agricultural sector indirectly drive migration," said Richard Munang, who heads UNEP's African Regional Climate Change Program from Nairobi.
Skeptics may wonder why it's only now that East Africans are making their way north; after all, Ethiopia and its neighbors have seen plenty of deadly natural disasters in the past.
But the routes forged by largely Syrian, Iraqi, and Afghan refugees of war have opened up new possibilities. The demand has led smugglers to lower their prices and expand their knowhow. And for some East Africans, the sense that the sparse rains and unpredictable temperature shifts are both worse than before and here to stay has tipped the scales.
In Metema, where I met Gebremichael, immigration officials say they're seeing more travelers, most of whom hail from the desperately poor, drought-ridden Somali region of Ethiopia.
At Delgo, about 1,000 km (620 miles) north and in the heart of ancient Nubia, a Sudanese policeman said more and more migrants were following the abandoned British-era rail track north—even at the height of summer. The authorities estimate the total by counting the bodies of those who've succumbed to the heat.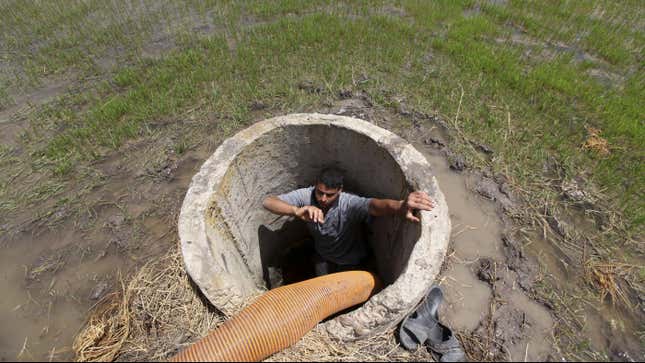 And in Cairo, where many Ethiopians, Eritreans, and Sudanese congregate before attempting the dangerous maritime hop, refugee activists say new arrivals from Sub-Saharan Africa may have as much as doubled over the past year, as higher food prices and tougher climes bite further south.
Many African migrants are particularly likely to chance the illegal sea passage, campaigners say. "Most of them can't speak Arabic so can't work, and they experience bad racism because they're black," said one social worker, who asked not to be named. Hard though it is for climate migrants to get refugee status and resettlement in the West, many are resolved to risk the journey.
In 1990, the UN's Intergovernmental Panel on Climate Change (IPCC) projected that shoreline erosion, coastal flooding, and agricultural disruption would displace up to 200 million migrants by 2050. And last year a World Bank study suggested that climate change will pitch at least 100 million people back into poverty, mostly in Africa, by 2030.
A few Western governments have mooted plans to help struggling African countries counter the consequences of a changing climate. The UK's Department for International Development, for one, gave £10 million (then about $15 million) in December to help Sudanese farmers boost their "resilience" and combat desertification. But with Europe already struggling to cope with the relatively small numbers of war refugees, it seems unlikely that current immigration policies will do much to dissuade climate migrants, many of whom feel they have nothing to lose. On my journey I often heard variations on a common refrain: "I'm dead if I stay, so it doesn't matter if I die on the way."