SAT prep books have nothing on this new children's book for Harvard-hopefuls.
The Rabbit Who Wants to Go to Harvard is a picture book from Penguin Random House's Dial Books coming out Feb. 9. And before your eyes roll so far back in your head they get stuck there, fear not: It's a parody. The book is inspired by another bunny-based story that had parents in a frenzy last year, The Rabbit Who Wants to Fall Asleep, which shushed and murmured kids into slumber.
This book, written by Diana Holquist with illustrations by Christopher Eliopoulos, takes kids and parents on a journey to that collegiate paradise: Harvard.
Along the way, readers meet Adderall Aardvark, who doles out the eponymous focus-enhancement drug. There's also Admissions Officer Owl, who has a line of 34,295 other rabbits out his door, and Kollege Koach Kitty, who sits atop a pile of cash.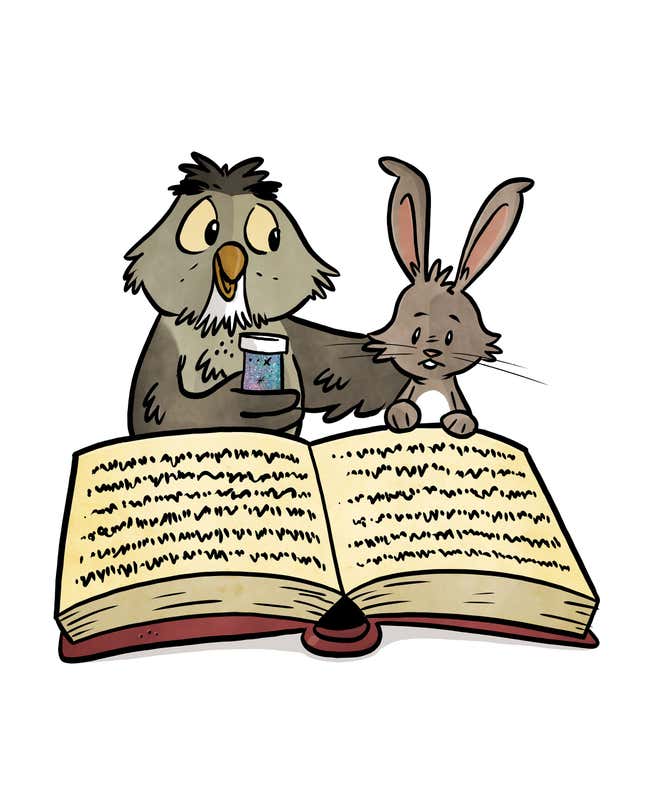 The book, written in second-person with the same instruction-based formatting as the original story by Swedish author Carl-Johan Forssén Ehrlin, mocks the over-the-top requirements kids need to gain admission into elite colleges.
Since Kollege Koach Kitty is wise, I will do what she tells me, thought Ronald.
"Join a varsity sports team." Ronald did as Kitty told him.
"Take up an orchestral instrument." Ronald did so now.
"Publish a scientific paper in a nationally recognized journal." Ronald did so, now.
"Don't worry about your essays, Ronald. I will write those," said Kitty.
Holquist, who has written a parenting memoir and romance novels under the name Sophie Gunn, is the mother of two: a 19-year-old already in college and a 16-year-old currently in the admissions process. Speaking to Quartz, she recalled fondly the time when her biggest parenting problem was just getting her kids to bed. "They don't know what's coming," she says of parents with young children.
Holquist describes sitting around with her friends when the original book came out: "We joked, 'What if [Ehrlin] could hypnotize our kids into Harvard? Yes, that's what we need.'"