You really can find anything on Alibaba, the sprawling Chinese e-commerce site. Like, say, hats featuring the slogan adopted by Republican presidential candidate Donald Trump about bringing manufacturing back to the US.
Sold by Qingdao Jeff Help You Industry & Trade, the 100% cotton embroidered "trucker hats" come in customized colors. The minimum order is 50, and if you order more than 1,000, each one will only cost you US$0.90. (Official Trump hats from his presidential campaign go for $30 each.)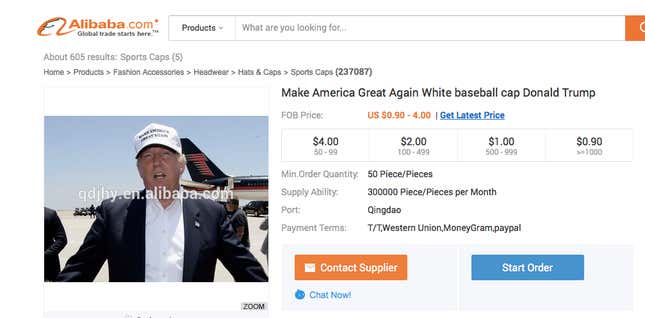 The buyers of the China-made hats are mostly "some shops in US" Susan Su, a sales rep for Qingdao Jeff Help You, told Quartz. The company has sold more than 10,000 of the hats, she added. She didn't elaborate on the identity of the buyers, but said "maybe they also sensed business opportunities."
Official Trump campaign hats, which accounted for nearly 7% of the money the Trump campaign spent in the fourth quarter, are all made in the US, a campaign spokesman has said in the past. The manufacturer is southern California's Calfi-Fame factory, which employs many immigrant Americans. Trump is running on an anti-immigrant, anti-China platform, and has pledged to force Apple to move its manufacturing back to the United States.
The hats became ironic accessories for liberal hipsters, the New York Times reported last year, as well as campaign staples for Trump's fans.