If you picked this time of year to be a tourist in China, you made a big mistake—and now you know it. It's peak travel season in the most populous nation on the planet. Hundreds of millions of people head home—or go on vacation—for the Chinese New Year (also known as the Lunar New Year, the spring festival, or chunjie). Following the traditional Chinese calendar, the holiday occurs on Feb. 8, ushering in the Year of the Monkey.
Chinese travelers are expected to make 2.9 billion trips during the 40-day period between Jan. 21 and March 3, according to the transport ministry, and most of the trips will take place during the weeks surrounding Feb. 8. That figure is actually down from previous years. In 2014, 3.6 billion trips were made.
One reason for the drop is the economic slowdown. With factory orders decreasing and fewer jobs available in the bigger cities, many migrant workers headed home well before the holiday. China is also getting somewhat better at handling the crush, as the nation's transportation infrastructure has steadily expanded over the years.
Still, Chinese New Year typically means travel hell, and this year is no exception. Travelers face hideous traffic jams, fierce competition for tickets, and sometimes epic delays.
Case in point: On Feb. 1, over 20 train delays caused by icy weather left more than 100,000 passengers stuck at Guangzhou's rail station, raising fears of a stampede.
Many travelers this year have faced a challenge of another sort—while buying tickets online. New cybersecurity measures in the form of puzzles, designed to thwart scalpers, left many customers baffled. With tickets selling out fast, time wasted on the cryptic puzzles often resulted in lost chances to buy the right—or any—ticket.
Train stations have some of the worst lines. One Weibo user complained about the line for picking up tickets booked online being longer than the regular line, commenting it used to be the other way around and posting a pic from where he was stuck.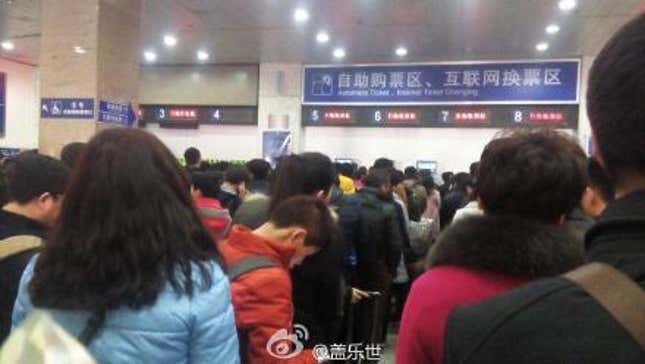 These videos give a sense of the hordes.
Other glimpses of what travelers around the nation face this year: