Petra Wadström, a Swedish designer and artist now in her 60s, doesn't have an engineering background. Back in 2005, when she came up with the idea for Solvatten—a piece of equipment that makes contaminated water safe to drink—she also didn't know much about solar power.
What Wadsrom did know was this: she gazed up at the sun, beating somewhat uselessly down on Australia, where she lived at the time; she looked at a jerry-can, which someone might use to carry water from source to home; and she realized the world was missing a trick.
Solvatten now provides solar-powered water purifiers to people without access to safe, clean water in 45 countries, the majority in Africa. The technology itself uses no chemicals or moving parts, and lasts for between seven and 10 years—long enough for it to benefit a family for an entire childhood, the company says.
Over 660 million people live without access to safe water around the world, and children are particularly susceptible to waterborne diseases.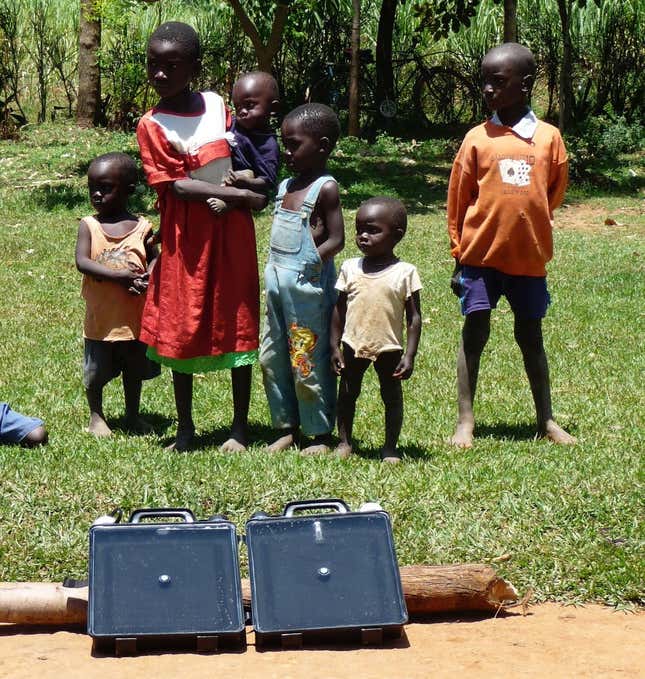 The very simplicity of Solvatten's technology is itself surprising. A black, plastic container is carried to a water source and filled with 10 liters (2.2 gallons) of water, which passes though a mesh to filter out bigger particles. Once home, the casing splits into two, opening up like a book, revealing transparent acrylic surfaces with a dense mesh of molecules that allow UV light to pass through. It's then placed in the sun. The light disrupts the formation of DNA connections in bacteria in the water, making it impossible for them to reproduce. (Wadström does have a background in natural sciences.)
Alone, this wouldn't be enough to make the water safe. But the black plastic of the casing also helps the water heat up to above 55ºC (131ºF), which is warm enough to do the rest of the work. It's this "synergetic effect" that make the unit effective, explained David Wadström, who runs communications for Solvatten and is one of Petra's two sons who work at the company.
He stressed to Quartz that heating up the water serves a vital function as well, improving the quality of washing and cleaning for users. He noted that the company prioritizes mothers with newborns, for whom warm water is even more crucial. Using solar energy for this purpose also avoids the burning of fuels like wood and charcoal, and the pollution these generate.
Working with both humanitarian organizations and commercial partners, the company was recognized by the UN in November 2015 as one of 16 companies truly making a difference to tackle climate change.