September 2014: Yoshiyuki Morioka, a bookseller who had been running a store in Tokyo, Japan for 10 years, had a curious thought. Lots of customers, it seemed, dropped in during book launches and other events to buy the same title; others often appeared overwhelmed by all the extra variety. So why not start a bookstore that only sold one book at a time?
Now, Morioka Shoten—Morioka's new venture that threw open its doors in Tokyo's trendy Ginza shopping district in May 2015—operates around that very principle. The store stocks multiple copies of only one carefully selected tome each week, aiming to maximize the joy and intimacy of book-buying for enthusiastic readers. Morioka Shoten has been dubbed both an "anti-Amazon" and a "minimalist solution" to the crippling indecision that customers tend to face when standing among the teetering shelves of traditional bookstores.
Flowers, small artwork, and other trinkets usually adorn the single book on display, but the setup is otherwise free of distraction. Minimalism rings through the bookstore's bare-bones typography and brand design, as well.
Two meanings unfold from the business's simple rhombus logo: "an open single book," and "a single small room."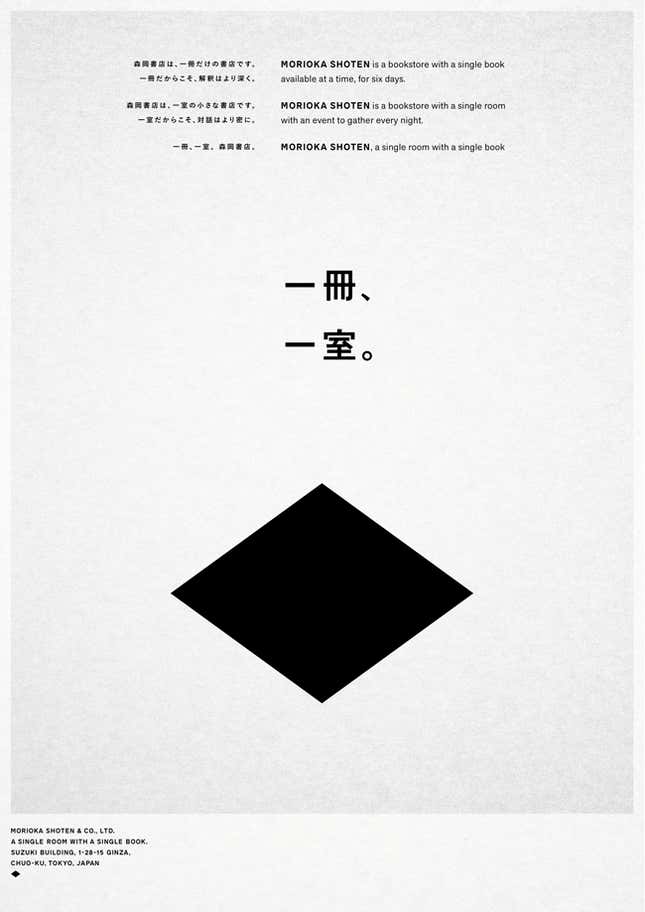 The whole endeavor is "an attempt to make the two-dimensional book into three-dimensional ambience and experience," Morioka told the Guardian at the end of 2015, adding that he wants readers to feel as though they can go "inside the book" when they step into his small, sparse store.
Takram, the design engineering firm that helped Morioka put together the look of his new store, says the experience highlights "the importance of a physical venue in the era of digital reading."
Books that have been displayed so far include Swedish-Finnish author Tove Jansson's The True Deceiver, Hans Christian Andersen's Fairy Tales, and works from well-known Japanese writers like Mimei Ogawa and Akito Akagi. Each title is displayed for six days in a row—Tuesday to Sunday—and then swapped out for a new book.
And things are going quite well at the quiet little store. According to Morioka, Morioka Shoten has sold more than 2,000 works since it opened. Proof, then, that readers seeking deep, personal relationships with physical books are still around across the world.