As lunar new year looms, people in China, Vietnam, South Korea, and the diaspora are hustling to get ready. Celebrants are scrubbing their kitchens, buying new clothes, getting hair cuts, paying (and collecting) debts this week, all to prepare for the first day of Monkey Year on Feb. 8.
One surprisingly crucial errand in the annual scramble to freshen up is a trip to the bank: It's not a new year's celebration without crisp clean money in your pockets to give out to your kids, grandkids, or younger siblings and cousins.
In crispness we trust
In countries where the new year is a public holiday, new (or nearly new) notes are automatically issued by the government's central bank. But in countries like the US with smaller East Asian communities, it comes down to individual banks to ensure local branches have the crisp bills required by tradition.
According to custom, it's extra important to display model behavior on the first day of the entire year. So losing, lending, or borrowing money on new year's day is a big no-no, as it's seen as an omen for a whole year's worth of bad fortune. Instead, one should pad one's pockets with beautiful new money, usually given by an elder. Giving away red envelopes (called hongbao in Chinese or li xi in Vietnamese) with a few bills of good-luck money inside is de rigueur.
To prepare for new year-related demand, a Bank of America branch in LA's Little Saigon ordered $6 million in new bills this January, according to the LA Times. That's about 12 times the amount of new money it ordered for Christmas 2015.
At Bank of America's Mandarin Tower in San Francisco (home to the biggest Chinatown outside of Asia), once word circulates that new bills are available, lines are out the door, a spokesperson tells Quartz. The bank routinely sees thousands of additional customers in the month before new year, so it staffs up and lengthens bank hours to meet the rush.
The past two weeks have been "pretty intense," Jose Mendez, store supervisor at TD Bank in Manhattan's Chinatown, tells Quartz. His branch orders new bills about two and a half weeks before the new year. On a typical banking day, 15 or 30-minute lulls without customers are normal, but in the past few weeks he's observed a constant flow of traffic. When demand gets too high, the tellers designate a special line for people just looking for pretty bills.
Get (extra) lucky
In Singapore, where the ethnic majority is Chinese, banks also see unusual activity around li chun, the start of the lesser known solar new year, which signals the start of spring. In recent years, charts purporting to tell people their luckiest time slots for depositing money have gone viral in Singapore, causing long bank lines on the "auspicious" day.
One trending poster this year, from shopping site 65daigou, suggests auspicious (and even more auspicious!) times of day for banking, according to zodiac sign. The site also tells visitors what colors they should wear to the bank for maximum luck.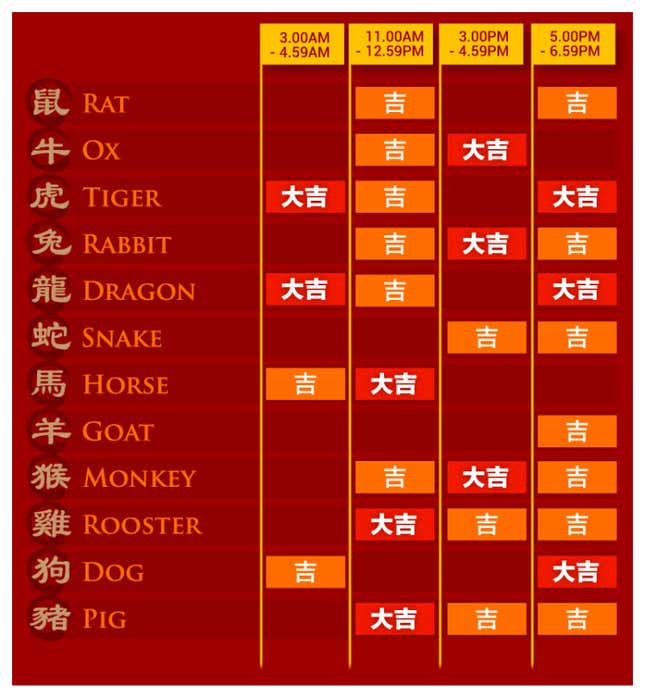 The digital "war" for the red envelope
But mobile payments could soon make the scramble to collect and deposit crisp cash obsolete.
In China, digital exchanges of new year's money have exploded with popularity. In 2014 Tencent social media app WeChat released a red envelope app for the new year that let users send money electronically. It was massively popular: WeChat's 400 million users exchanged the equivalent of $46 million that year.
In 2015, its rival Alibaba responded by giving away 600 million yuan ($91 million) in red envelopes through its digital wallet, Alipay, sparking a "red envelope war." This year internet giant Baidu has joined the fray, saying it will give away 6 billion yuan ($912 million) in digital hongbao.
Still, it seems unlikely the trend will catch on any time soon in diaspora communities in LA, San Francisco, and New York, where lunar new year is a rare opportunity to preserve customs from the homeland.