The Super Bowl, which takes place this Sunday (Feb. 7) in Santa Clara, California, is already going to be unique because of a heavy influence from Silicon Valley tech firms. And it's the half-century anniversary of the world's largest annual single-league sporting event. But the man who spearheaded the Bay area's bid to host the American football championship hopes it will be remembered for something different, as "the most philanthropic" Super Bowl ever.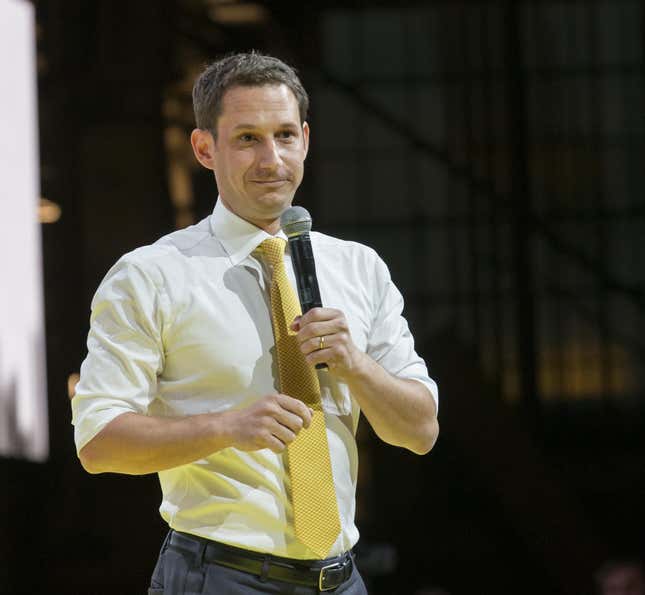 The National Football League (NFL) donates $1 million every year for the Super Bowl host committee to distribute to local charities. The $1 million donation is usually matched or exceeded by additional fundraising by the host committee. Last year in Arizona, for example, the host committee raised an additional $1 million and doled out $2 million total to various community organizations.
For Daniel Lurie, $2 million wouldn't be enough. Lurie, the founder of a San Francisco nonprofit called Tipping Point Community, was handpicked by San Francisco mayor Ed Lee to chair the Bay Area Super Bowl bid committee in 2013. And Lurie proposed that, if the region did end up hosting the Super Bowl, then 25% of the money contributed by sponsors such as Apple and Google would be dedicated to charitable giving. The bid committee secured $30 million in sponsor commitments, assuring that at least $7.5 million would be available for grants to community nonprofits—far more than any other Super Bowl to date.
Through "the 50 Fund," the Bay Area Super Bowl host committee, also chaired by Lurie, was able to give out $2.5 million in grants to area nonprofits as early as February 2015.
Now, days before the big game kicks off at Levi's Stadium, Lurie tells Quartz that his plan worked just as he intended. Approximately $7.3 million in grants have been given to 140 nonprofits in 12 central California counties. The host committee hopes to give away $13 million in total.
"There's no question we have lots of problems in the Bay Area with poverty," says Lurie. "I know from my work with Tipping Point there is a huge need in our community 365 days a year." And though he says previous Super Bowl hosts have all benefited hugely from the game, he wanted to ensure an impact in the Bay Area that would last "after the circus leaves town."