Look out, Amazon.
A new patent awarded to Google today suggests that the search giant is looking into developing self-driving delivery trucks, just as Amazon readies its autonomous delivery drone fleet.
Google's patent outlines what it calls an "autonomous delivery platform" for delivery trucks. The trucks would be fitted with a series of lockers that could potentially be unlocked with a PIN code sent to the person waiting for the delivery before the truck arrives at their location. The patent also suggests the locker could be unlocked by a customer's credit card, or an NFC reader. After the package is dropped off, the truck will continue on to its next delivery point, or return to the depot to pick up more packages.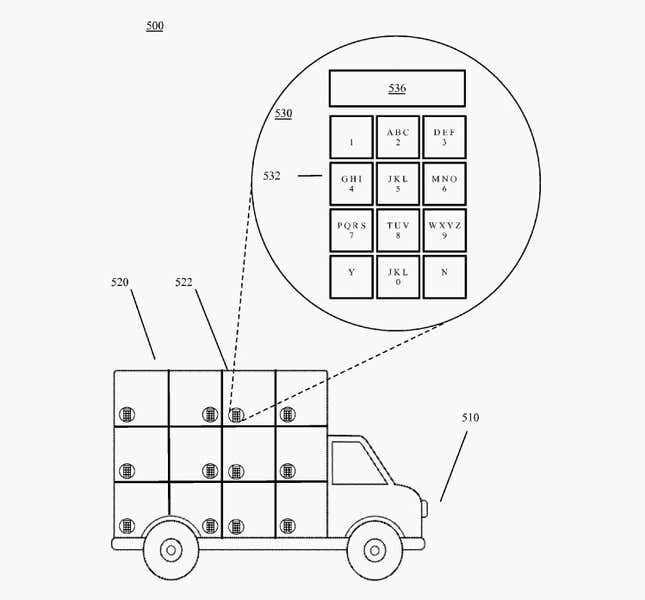 While the patent doesn't go into too much detail about the most difficult aspect of the idea—how the truck will drive itself—it does mention technologies that are reminiscent of what Google is currently using in its self-driving car tests:
Automated road vehicles can use various sensors, for example, video cameras, radar sensors and laser range finders, to "see" other traffic, as well as detailed maps to navigate a road, and a communication subsystem, such as a wireless communication subsystem, to communicate with a controller and other entities.
Google's parent company, Alphabet, has also been openly working on a drone delivery program it hopes to launch in 2017, called Project Wing, as well as its self-driving car program that's now testing out vehicles in three US cities. (In 2014, Google also applied to the California Department of Motor Vehicles to test out autonomous commercial trucks, according to IEEE Spectrum, although the company said at the time that it wasn't testing out any trucks.)
Although there's no guarantee that Google is planning to actually roll out a fleet of delivery trucks, this patent dovetails the two announced projects together quite nicely. Google wasn't immediately available for comment on its plans for the patent.
Amazon will be hoping that it can beat any Google-backed delivery effort to the punch. The company has released myriad promotional videos and interviews teasing its drone delivery service, which it's calling Amazon Prime Air. In November, Jeremy Clarkson, the former Top Gear host and soon-to-be Amazon video star, told us how we'll soon be able to order small items to be delivered by drones in about 30 minutes. The company hasn't given a timeframe on when its drone service would be ready to use, but it has said that whenever the US Federal Aviation Administration figures out how to incorporate commercial drones into the national airspace, the company will be ready to set up its service.