It's hard to look at recent headlines and come away feeling optimistic about China's housing market. Tightening credit conditions, a fresh round of property-sale restrictions and renewed talk of "ghost cities" suggest the much-discussed China housing bubble may be nearing "pop" levels once again.
Or so it might seem. But in a note out today, Standard Chartered's Stephen Green and Wei Li point to mounting evidence that the bubble is subsiding—if, indeed, there ever was one.
Last year, Green and Li bet that demand for residential property would recover in the first half of 2013. Now they point to measures of newly started floor space and space under construction—up 17.5% and 12.8% year-over-year, respectively, from January to February—as signs that their call was accurate: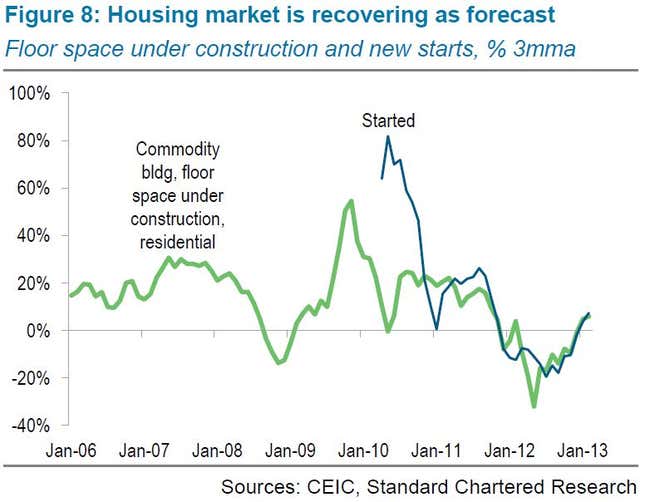 There are some important nuances to this argument. In past notes, Green differentiated among Tier 1 cities (i.e. Shanghai, Beijing, Shenzhen and Guangzhou), Tier 2 cities (major cities like Hangzhou and Chengdu), and Tier 3 cities (smaller satellite cities like Shenyang and Nanchang). While Tier 1 continues to see robust demand, Tier 2 suffers from wider-spread oversupply problems. Development in Tier 3, which has seen less speculation, is picking up, signaling a recovery in prices. While current signs of a recovery in housing market demand are strongest in Tier 1 locations, Green expects housing prices in the lower tiers to follow suit by the end of 2013.
But what of the "ghost cities," you ask?
Most of the eerily empty developments, such as those recently mentioned in CBS's 60 Minutes (video), were not created to meet private demand. As Jonathan Anderson of Emerging Advisors Group recently explained to China Realtime Report, they're more properly understood as wasteful local-government projects that helped the country chug along in the aftermath of the Great Recession, and they hardly reflect more general housing market dynamics. (Last August, economist and China bull Stephen Roach offered another take on "ghost cities," noting that China's urbanization will gradually makes use of these properties, much the way Shanghai's Pudong has done.)
So, sure, the Chinese government may be tightening regulations to make sure housing prices don't rise too quickly. But as Green and Li's research suggests, demand in most of China's biggest cities remains strong—hardly the makings of a market on the brink of collapse.