Since Burberry introduced its distinctive check pattern in the 1920s, it's become one of the company's most recognizable symbols. After the check became overexposed and widely copied in the early 2000s, Burberry fought hard to reclaim it—and now it's fighting again to ensure the pattern remains Burberry's alone.
Yesterday (Feb. 9), the British heritage label filed a trademark infringement suit against J.C. Penney in a New York district court, accusing the department-store chain of copying its famed check on outerwear. The suit says Burberry's trademark has been in effect on the red, camel, black, and white version of the pattern, as well as other color combinations, "for over three quarters of a century." Burberry also took a swipe at the quality of J.C. Penney's low-cost products.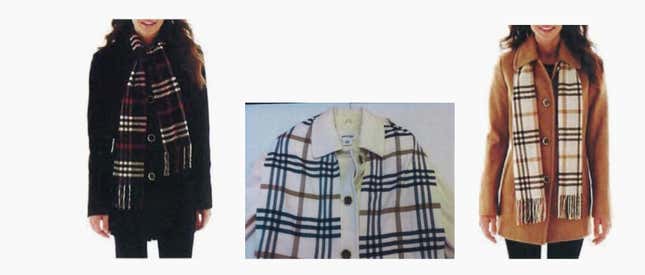 "Even though Defendants' infringing products are of inferior quality, they appear superficially similar to genuine Burberry products," Burberry's complaint states. "Defendants' actions are intended to deceive and mislead consumers into believing that Defendants' or their products are authorized, sponsored by or connected to Burberry."
Among the offending items are a "Scarf Coat," which includes a checked scarf, from J.C. Penney's brand, St. John's Bay, and a "Quilted Jacket," which has a checked lining. According to Burberry, J.C. Penney continued selling the items for two months after learning of Burberry's objection, and at least one version of the Scarf Coat is still live on J.C. Penney's site as of this writing.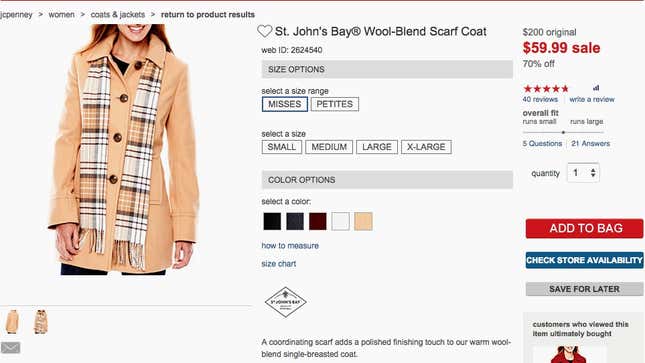 Both Burberry and J.C. Penney told Quartz they are not commenting on the impending litigation.
The check pattern has been a touchy issue for Burberry in the past couple decades. It became extremely popular in the early 2000s, particularly among a subset of the white English working class, and among counterfeiters, who found no shortage of products to plaster it on.
The overexposure actually threatened the brand's upscale image. Burberry worked to restore the check's prestige by limiting its own use of the pattern and cracking down on vendors selling knock offs.
Clearly it doesn't want the lower-end J.C. Penney coming anywhere near its restored signature check. In its complaint, Burberry stated, "Defendants' conduct has caused and, unless enjoined, will continue to cause irreparable injury to Burberry and an incalculable loss of goodwill and damages."
The lawsuit seeks to put a stop to any further alleged infringement. Among other demands, it also asks that J.C. Penney either pay Burberry triple the damages suffered, give up all "illicit profits," or shell out up to $2 million for each trademark it claims was infringed.