The British pound is getting creamed (paywall) as the chance of Britain slipping into a triple-dip recession seems to be rising, after UK industrial production turned sharply lower in January. The pound is hitting a two-and-a-half-year low against the dollar today.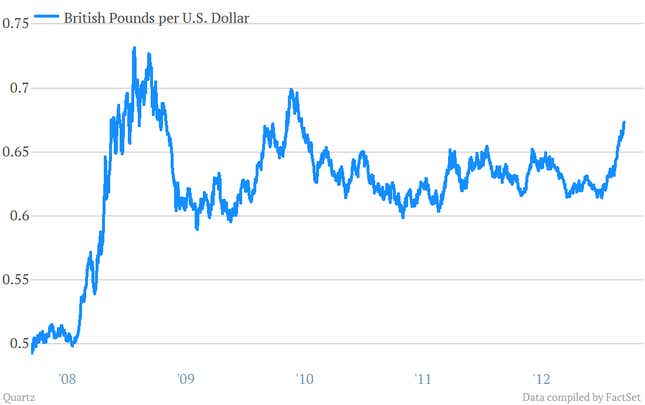 But there is something different about the current bout of pound weakness, as opposed to similar periods in 2008 and 2010. For one thing, we're not in the midst of a global rush to the safety of the US dollar right now, as we were in 2008 and 2010. So investors aren't abandoning the pound for the safety of the dollar; they are dumping it because of the ugly state of the British economy. The latest update on this front today showed industrial production slipped 1.2% in January compared to the prior month. Wall Street consensus expectations called for a 0.2% gain.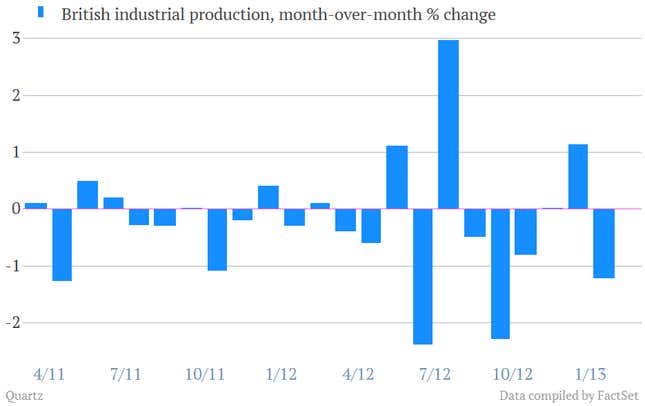 Compared to the same month a year earlier, the fall in industrial output was 2.9%. Barclays analysts note that this was the twenty-second consecutive month of year-over-year declines.
This is not a mystery. Like Germany, Britain is in the European Union. And the EU is in recession. Given that the rest of the EU is the UK's largest trading partner, Britain can't expect much of a lift from an export-driven economy, even if its currency is tanking. And with David Cameron's government looking increasingly set on public posturing for further austerity—while privately hoping for a backdoor bailout from a much easier Bank of England once the new governor, Mark Carney, takes over in July—the domestic economy doesn't look set to roar forward any time soon either. The technical term British economists apply to the current status quo, we believe, is "a bloody mess." And when it comes to the pound, investors are voting with their feet.