Alexandre Callet, who runs the restaurant in Paris, was keen to open a second shop, but needed a loan of €70,000 ($78,000) to make that dream a reality. Unfortunately, the 30-year-old has been unable to find a bank willing to give it to him.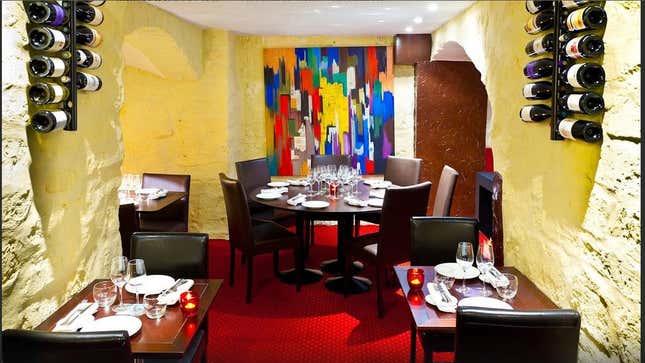 So, Callet responded how any reasonable person would: he banned all bankers from entering his restaurant. He made the unusual announcement—"Dogs allowed. Bankers forbidden (unless they pay an entry fee of €70,000)"—on the blackboard outside his restaurant, which normally displays the specials.
Callet told The Local:
I believe in reciprocity. I had to respond. If you hit me, I'll hit you. As soon as I see a banker that I recognize I won't let them enter my restaurant. They have treated me like a dog, so I have denied them access.
Callet's restaurant is not some random bistro, either. Les Écuries de Richelieu is in the Michelin guide (link in French) and he said it had revenues of €300,000 last year. "I have never had financial problems and yet I find myself in this situation," he complained. "Bankers are not doing their job."
"This is not just a kebab shop," Callet said. "A lot of bankers who turned me down know me. They come in here."
He criticized the French government for forcing many businesses in France to resort to crowdfunding. At the heart of the problem, Callet argued, is French-style socialism, which supposedly props up big government whilst letting businesses like his to flounder.
Callet's grievances unite two French passions: banker-bashing and government-bashing.
Bankers—and everyone else—should watch out as Callet's aspirations go much further than just running a second restaurant. The outspoken businessman also has dreams of running the entire country. He has previously announced his intention to become president of France (link in French) in 2012 as a candidate that wouldn't sit on the left or the right but in the "extreme center."