Vancouver
Attending a TED conference often feels like trekking through a glorious modern-day jungle. At the most recent event, theaters, viewing booths, art exhibits, and even a ballpit, were spread across the sprawling, multi-level Vancouver Convention Center. With a jam-packed schedule of over 100 speakers, book signings, brainstorming sessions and meet-ups, finding your way around was quite challenging. Luckily for the over 2,000 attendees at this year's conference, a new character named Gigi was there to help.
Designed as a virtual extension of an onsite information desk, Gigi is TED's new concierge chat bot. Throughout the weeklong conference, the affable avatar sent helpful reminders via TED's custom-built attendee communication app. ("Make your way to Room 201…" or "Shuttle Service in the lobby").
Like a true concierge, Gigi was discreet and obliging but never solicitous. She didn't nag you about being late for an appointment or skipping a session in the theater. She also, on occasion, delivered real-life delight. After receiving a text, Gigi surprised a caffeine-starved attendee who just had to have that Diet Coke by delivering the beverage right to his seat.
The Gigi shift
As revealed to Quartz, Gigi was less bot and more human—or rather a group of sweet humans (mostly men!) who fielded requests from attendees, at all times of the day. The Gigi nerve center, a windowless room near the conference entrance, was manned by members of TED's technology team ready to problem-solve business-related or even personal conundrums. "I brought in a box of tampons for someone today," TED community support manager Mireille Pilloud, said, beaming with pride.
TED's tech team plugged in attendees' personal conference data with their chat platform so their responses were customized. Schedule reminders were auto-generated, but unique questions were answered by one of the five to six people manning the shift, with support from a few staffers in Asia and Africa for after-hours qualms and queries.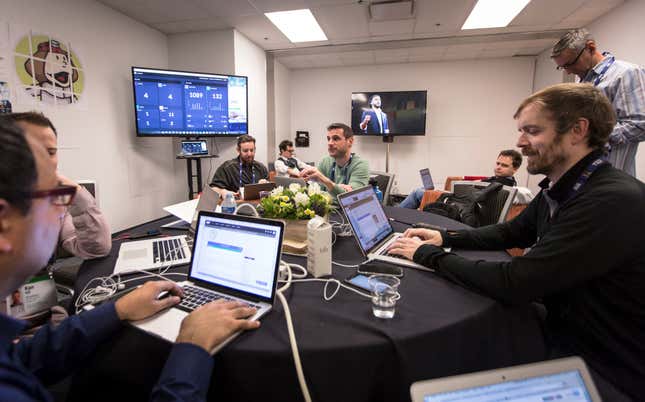 "The thing that we've been really excited about is in that 'surprise and delight' factor," said Pilloud, who also manages TED's general email account. Over the week, the small team lived, breathed and became Gigi ("Hi Gigi!" they would often say upon greeting one another) with a focus on how the app could "go above and beyond the original request."
"Surprise and delight" is a customer service tactic that delivers unexpected services to garner brand loyalty. It can take the form of free upgrades or a simple handwritten note to accompany a delivery. Brands like Starbucks, MasterCard and the mattress start-up Casper have all had some success deploying this strategy. This is the first year TED tried a virtual assistant for its high-powered attendees, who were also treated to aromatherapy chairs, onsite massage services, unique late night concerts (astronaut Chris Hadfield jamming with singer Amanda Palmer), and dinners with world-renowned geniuses.
Gigi's look—a smiling face wearing what appeared to be a tiny spelunker's hat—was a cartoon translation of a hand puppet that TED once used to welcome guests to the conference. Many curious tech-savvy TED attendees tried to probe what (or who) was behind the sophisticated artificial intelligence "technology" powering the service. "They test us," explains Pilloud. "I think some people are on to our secret, but we try to be vague about it. There's fun in that mystery."
No question too small or silly
Over the week, the Gigi crew replied to over 1,100 requests, from sorting out dinner plans to pointing to where attendees could find a charger or an umbrella. The questions were "all over the place," the crew says. One attendee asked, "Why can't I watch HBO in Canada?" Another submitted an immigration query. "We give them pointers and resources, it's not like we're going to show up at the immigration service to escort them through," explained Pilloud. "Though I have a connection at the Mexican consulate," a Gigi team member piped in.
Like Apple's personal assistant Siri, Gigi would even courteously indulge the occasional goofy (or esoteric) question:
"Anything they ask, we try to accommodate," Pilloud said. The team will continue to fine-tune the Gigi service for next year to improve the 28% adoption rate.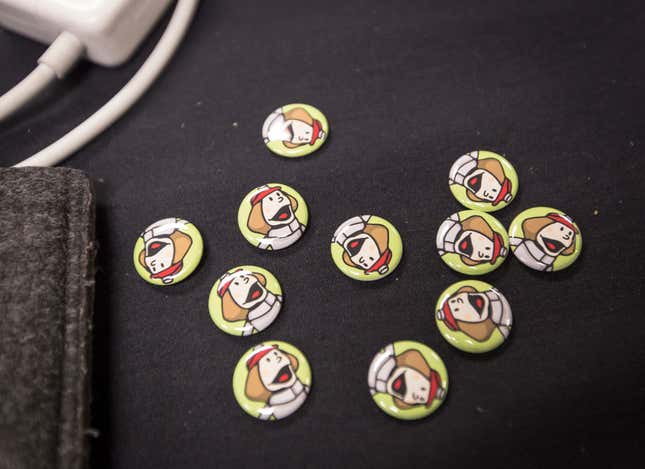 Inspired by the success of the first Diet Coke delivery service, the team took the "surprise and delight" strategy to heart—getting caught up in an apparent love-triangle along the way.
The team told Quartz about a man who texted Gigi throughout the conference with messages like, "I'm at the hotel, hungover, I'm watching the live stream" or "Look at what this guy [the speaker] is wearing." The team took turns trading witty comments with the attendee, to the point that his wife, who was also attending the conference, became suspicious. The team realized what was going on when the wife chatted an SOS to Gigi one night. "I think my husband is seeing someone else," she wrote in.
Caught in the "love triangle," the kind-hearted Gigi team devised a playful intervention. The team wrote a "love note" enclosed with a chocolate bar and left it at the conference information desk for the husband. "Actually, it was not so much as a love note, as a warning," laughs one of the Gigi's. The note said, "I think your wife is on to us."