It's near impossible to explain why some memes take off the way they do. By now, you've probably seen a Twitter post from Feb. 15 by user @josholzz. It's a video made of clips of his friend Daniel's outfits, focusing on his footwear, and a voice approvingly saying "Damn, Daniel" at each look. A description isn't nearly as good as the video itself though. Just watch it below.
One item gets the off-screen narrator particularly excited. "Damn Daniel, back at it again with the white vans!" he says, hardly able to contain himself. As with any meme as popular as this one, people are looking to capitalize, and that's now evident on eBay, where listings for "damn daniels white vans" are currently blowing up.
As of this writing (Feb. 22), there are more than 230 listings for "damn daniels white vans," and they're getting some unbelievable bids. One pair of dirty white Vans Authentics in size 10 has 57 bids, at a current high of $15,100. Another pair with the same details has 24 bids, and a current high bid of $11,700—and both auctions are ongoing. Some other pairs have received slightly less ludicrous bids, such as $500 or $1,000—but that's still more than a little crazy for sneakers that retail at about $45.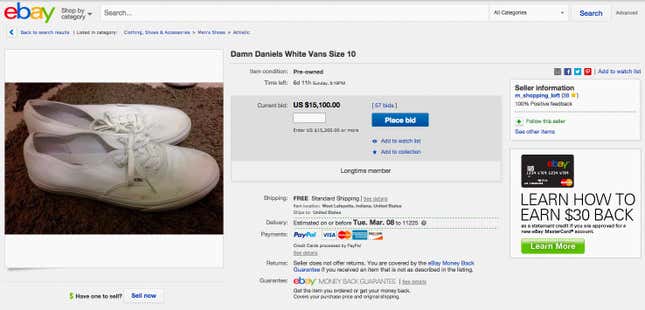 Will any of the high bidders actually pay for the sneakers they win? The bids are probably jokes, which eBay might not be thrilled about, since they directly violate eBay's bidding policy. It explicitly states, "You must pay for any item you commit to buying." Just in case that isn't clear, eBay reiterates in its "Rules for Buyers": "You can only bid if you really intend to buy the item, even if you're making a non-binding bid." (Non-binding bids are available on certain items, such as real estate and vehicles.) In the end, though, there isn't much eBay or a seller can do if a winning bidder doesn't pay for an item.
Quartz has reached out to eBay for comment and will update this post with any response.
While Daniel is apparently a high-school student in California, the #DamnDaniel listings are from all over the country. They're nearly all for the same style of white Vans Authentics, even though it looks like Daniel might be wearing Vans slip-ons in the video. Other items similar to the clothes shown in the video, including a backpack and some Stussy jeans, are also up for sale on eBay under the "damn daniel" marker.
Mostly the listings are a funny spin-off of the viral meme, which as of this writing has 260,000 retweets and 330,000 likes. But if anyone is actually paying for these sneakers, I would like you to know I have a pair of used white Vans Authentics I'd be willing to part with.