Both the EU27's and the euro zone's industrial production fell 0.4% in January, compared with December. The drop was worse than expected, offering little to assauge the worrying trends of late (such as the UK's economic splat) and suggesting that flagging industrial output is helping to drag the region's economy deeper into a double-dip recession.
There's little divergence between euro zone fortunes anad those of the EU27 (which adds 10 countries to the euro zone, including the UK and a slew from eastern europe and Scandinavia). Here's a look at that, via Eurostat (pdf):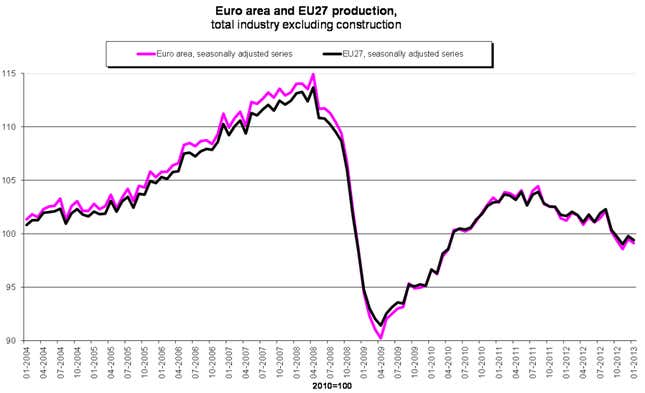 But while the monthly decline reversed December's upturn, the year-on-year trend hints that improvement may be underway, even if it's stultifyingly gradual improvement: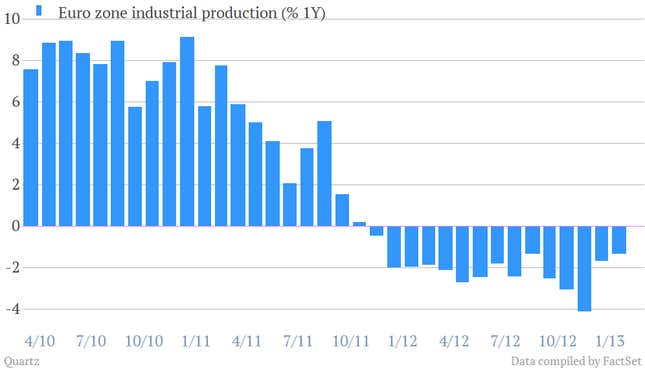 As Chris Williamson, economist at Markit, points out, "Eurozone industrial production -1.5% in 3m to Jan v Q4's -2.1%. Better, but stablisation still a long way off." And that's important since the drop in Q4 2012 was the steepest quarterly drop in three years.
Also floating in the half-full glass are the economies of Bulgaria, Lithuania and Estonia, whose year-on-year industrial production jumped quite a lot (by 8% in the first two and 5.5% in Estonia).
However, Sweden and Finland joined Greece and Spain in turning out the worst numbers, with declines on the order of 5% and more. And while Germany didn't fall by anywhere near as much, it contracted by 1.3% year-on-year, dimming somewhat the recent brightening of its economic prospects.