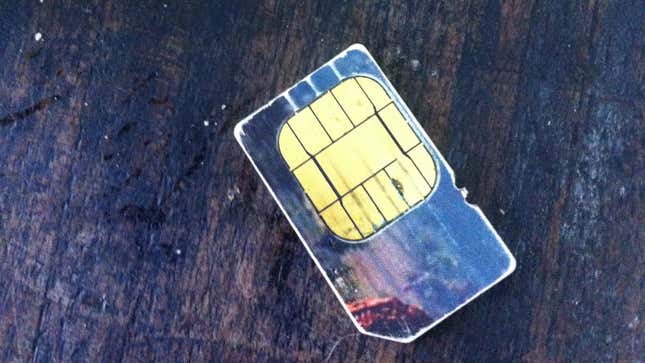 YANGON— The price of a mobile-phone SIM card serves as an indicator of the remarkable changes Myanmar is undergoing as it reforms its political system and economy.
As shown in the chart below, only a few years ago, during the worst of Myanmar's recent crackdowns, a SIM cost a few thousand dollars. The SIM pictured above was bought in 2001, according to its owner, and cost $3,000 at the time. But ahead of the historic 2011 election, which brought democracy into action in Myanmar, prices plummeted.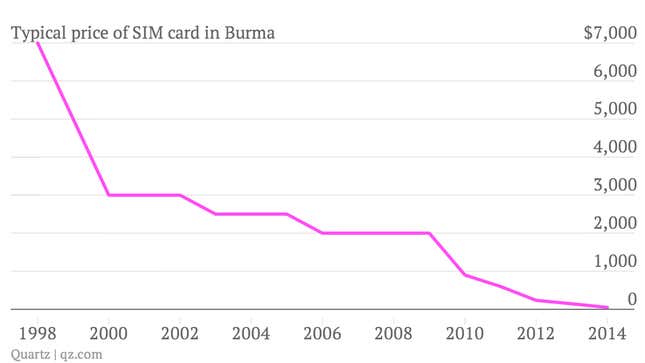 (The above chart is based on interviews with mobile users, mobile phone stores, and telecom experts in Myanmar. Further reports, by year: 2009; 2010; 2010; 2011; 2011; 2011; 2011; 2012; 2012; 2013)
This past year Myanmar has prepared to dramatically expand its existing cell phone networks, which currently cover roughly 9% of the population. President Thein Sein has set a goal of 80% penetration by 2015, the next presidential election year.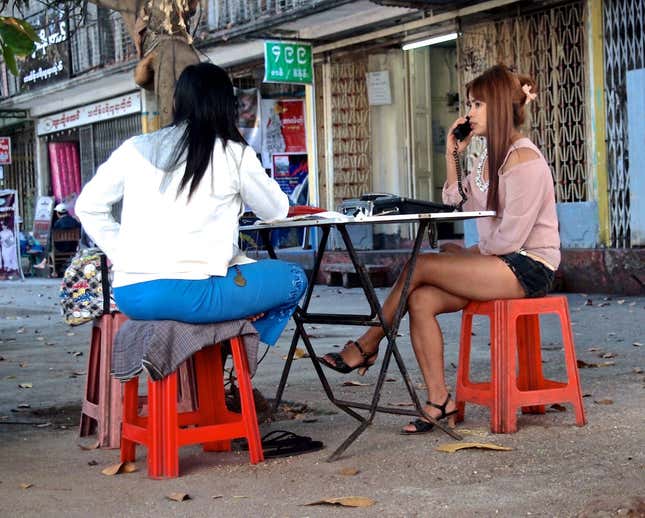 Though they have lowered, prices have stubbornly remained high to the dissatisfaction of many, a fact not lost on the Burmese. In January scandal rocked the country (paywall), as a former telecommunications minister resigned midway through a tender process for foreign companies to become mobile operators inside the country. Reportedly, his resignation was part of an extensive corruption probe that extends to Chinese telecom companies Huawei and Zte.
Many saw it as a sign that that government is getting more serious about rooting out some of the worst of its "crony" system, including lucrative contracts that inflate prices. A lower SIM price would put be a big step in catching Myanmar up to its neighbors. Neighboring Thailand has over 100% mobile penetration. Laos has 87%. SIMs in these countries can cost as little as a few dollars, or are even free with the purchase of minutes. These next few months will certainly test the will of reformers.