The changes Instacart outlined were grim.
Fees for customers were increasing. One-hour delivery in New York City had been suspended. In stores, standards were getting much stricter. A lengthy list of policies detailed everything from how Instacart shoppers should dress to when they could listen to music (only on break, only with headphones). Shoppers who breached two rules would be placed on four weeks' probation. Violate any more, and they risked being fired.
Instacart is a richly valued startup that uses an app and a network of hired "shoppers" to deliver groceries from stores to customers in as little as an hour. Last month, the company convened a series of unprecedented mandatory meetings in New York City to inform its staff of updates to store policies and employee expectations. It was the only event Instacart had required shoppers to attend since their initial training. When each session concluded, Instacart asked workers to sign a form saying they understood the policies, as well as the penalties for breaking them. A copy of one such agreement for a Whole Foods in New York's Tribeca neighborhood was obtained by Quartz.

The goal, Instacart explained in emails arranging the meetings, was to "get everyone on the same page" and "standardize operations across the board." But employees walked away with other suspicions.
"We think the company's not doing well," says Amanda, an Instacart shopper in Manhattan who requested that Quartz withhold her last name. "Why are you putting us on probation now?"
The New York meetings are the latest sign of trouble for Instacart, which just over a year ago was a darling of Silicon Valley. In January 2015, the company capped a period of furious growth with $220 million in series C funding that valued it at $2 billion, and last month it was reported to have secured an investment of unknown size from Whole Foods. But its recent history has been punctuated by problems. Instacart is being sued for allegedly misclassifying its employees. It's facing heightened competition from the likes of Amazon and Google. This past December, Instacart raised delivery fees and hiked the price of its membership program by 50%. It also laid off 12 full-time recruiters and announced plans to slow hiring in 2016.

All signs indicate that Instacart is scrambling to get its act together. It wouldn't be the only one. In recent months, high-flying startups have crashed back to earth. They've suffered down rounds, layoffs, and cuts to perks like dessert tables and custom $10,000 bicycles. In Silicon Valley, someone's been posting images of dead unicorns—industry slang for a private company valued at $1 billion or more. In the fourth quarter of 2015, the rate at which venture capitalists minted those unicorns slowed dramatically, and startup funding fell 30% from the prior quarter, to $27.2 billion.
Investors say this reality has arrived particularly abruptly for on-demand companies. These startups—think Instacart (groceries), Handy (home cleaning), DoorDash (restaurant delivery), and so on—won tremendous financing and VC enthusiasm by promising to do for their industries what Uber did for transportation. Many accomplished this without even pitching a profitable business model. Investors who missed out on Uber were afraid of getting left behind a second time, especially in a market where early entrants often seemed to come out ahead. So long as funding flowed, growth was the top priority for founders, and making money was left for later.
"People lost touch with the fundamentals of on-demand businesses, and were investing based on momentum rather than on economics," says Tim Young, a partner at VC firm Eniac Ventures in San Francisco. "All these companies are massively subsidized to support growth and restrain growth of competitors. And there's a point at which the music stops, and investors are no longer willing to see their money go to those subsidies."

Instacart was founded by Apoorva Mehta, its current CEO, in fall 2012. Mehta had spent time working supply chains at Amazon and noticed that groceries were one of the few things Jeff Bezos hadn't cracked. "To get groceries, you'd have to go physically to the store," Mehta told Business Insider in 2012. "To me, that was a broken experience."
When Instacart launched, it seemed like an eerie revival of Webvan, an online grocer that pirouetted from launch to $8 billion market cap to bust in a dazzling 18 months during the dot-com craze at the turn of the millennium. This time around, Instacart promised to make things different with an ultra-lean business model. Rather than invest in warehouses filled with perishable inventory, Instacart would recruit workers to shop in stores like Whole Foods and Costco and then deliver the orders to customers. The clincher: Those workers would be hired as independent contractors, not traditional employees, a distinction that could save up to 30% on labor costs.
Mehta called it "managed crowdsourcing," and investors bought in. Instacart "offers a way to escape the enormous capital infrastructure burden that was one of the things that was so tricky and complicated about Webvan," Michael Moritz, chairman of Sequoia Capital, which led Instacart's series A funding, said in a July 2013 interview. "Think of it in a sort of similar manner to the way that you might think about a company like Uber, where you have a lot of independent contractors who, in this case, instead of driving cars, will attend to your grocery shopping needs."
By the end of 2014, Instacart was operating in 15 US cities and doing $100 million in annual sales. It was also reportedly unprofitable. The company made money by charging customers $3.99 to $5.99 per delivery, as well as marking up groceries from some stores. It typically paid workers a minimum of $10 per delivery, and more for orders that exceeded a certain number of items.
In January 2015, the Wall Street Journal reported that not all Instacart orders "eke out even a small profit." This past fall the Economist wrote that Instacart was "rumoured to lose around $10 on each order it fulfills." Instacart declined to answer questions about its finances.

Instacart, like many of its Silicon Valley peers, has followed in Uber's footsteps by betting big on independent contractors and on-demand services. While the "Uber-for-X" model may seem simple, it turns out not to be replicated so easily. Prim, an Uber for laundry, folded in 2014. Homejoy, an Uber for home cleaning, shut down last summer, and its competitor Handy is a messy business at best. Many on-demand companies have been plagued by lawsuits, most often for misclassifying their workers as independent contractors. This story is about Instacart, but a similar one could be told for plenty of others.
Here is a sobering fact for all of those companies: Uber works because it meets a very particular set of conditions. Uber services a basic, high-frequency need—transportation. It takes advantage of "network effects," becoming better and more efficient as more riders and drivers join the platform. Uber's margins are thin, but it does so many rides in so many markets that the business ultimately looks viable.
Instacart doesn't fit these conditions. Groceries are a basic need, but they're not something people purchase as frequently as they might require a ride somewhere. In 2015, US consumers averaged just 1.5 trips to the supermarket each week, according to data from the Food Marketing Institute. When it comes to network effects, Uber's service clearly benefits from becoming more ubiquitous; the larger its pool of drivers and riders grows, the better Uber is able to match each ride, shortening rider waits and driver idle periods. It's unclear whether Instacart, which now operates in 18 markets nationwide, can reap similar benefits from scale. Unlike Uber, which can shave off valuable seconds to improve the customer experience, Instacart is delivering within hourly windows. And the groceries it's providing will only ever be as good as the store they're coming from.
Grocery does look like the taxi and for-hire car market in that its margins are notoriously thin and its customers highly price-sensitive. For every $100 shoppers spend, stores usually keep only $1 to $3, says Bill Kirk, an analyst at RBC Capital Markets. Uber makes its narrow margins work with staggering volume, and fares that are often lower than those offered by taxis. But Instacart is trying to compete on convenience, and it's an open question whether customers are willing to pay the premium—especially when companies like Amazon have trained us to expect fast shipping for free. Even in New York City, charging $11.99 for delivery on $30 of groceries feels like the price of an extravagance, rather than a routine time-saver.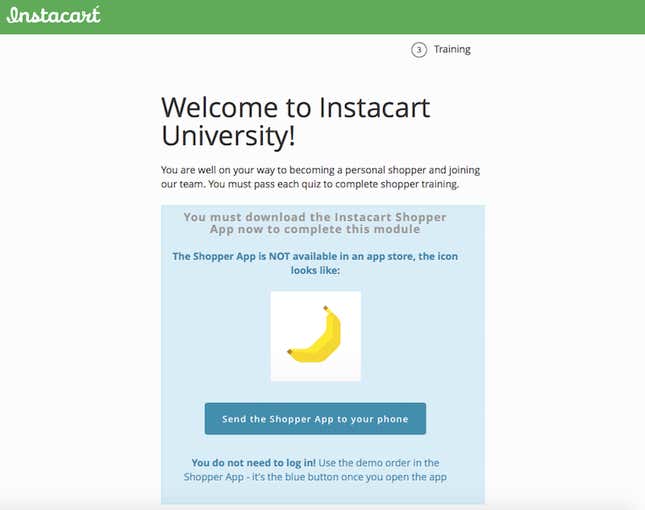 Then there's the matter of staffing. Uber is embroiled in a federal class-action lawsuit over whether its drivers should be considered independent contractors or employees. There are good arguments to be made on both sides, but a critical point in Uber's favor is that it doesn't train its drivers—something typically associated with an employer relationship. It's another of the quirks that makes Uber's model work. Driving is one of the few skills that most Americans are taught in a relatively standardized way, preparing them to work for Uber without the company needing to do any real training.
Instacart has no such advantage. The average American hasn't been taught how to choose a ripe banana or avocado, which means that if Instacart wants to provide a consistent quality of service, it has to show its shoppers how. When I applied to work at Instacart while researching a story last spring, this was handled via "Instacart University," a multi-part online video training course on everything from shopper efficiency (it was called "MPI," or "minutes per item") to produce selection ("not too soft, not too hard, just perfectly ripe"). Each video was followed by a short quiz, and the entire thing took two to three hours to complete.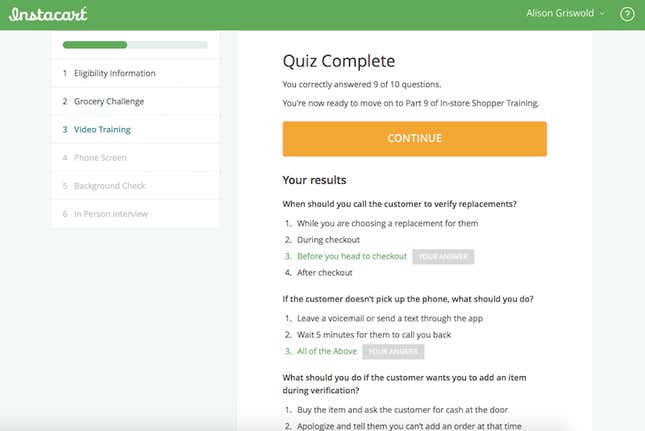 That was in May, when all Instacart shoppers were still officially brought on as independent contractors, and when most worked "full service" roles—picking the groceries for each order and also delivering them. In late June, Instacart announced that it would shift a few hundred of its roughly 7,000 US workers to purely in-store shopping roles and reclassify them as part-time employees. The stated reason was training. "Grocery shopping can be complicated," Mehta said at the time. "For this reason, we want to provide supervision and training, which can only be done with employees." However, the company was also sued in early 2015 for misclassifying its workers as independent contractors, and that suit is ongoing. Instacart declined to comment on how many of its workers are considered employees today.
Whatever the reason, reclassifying even some workers as employees was a big change from the "managed crowdsourcing" Mehta had promised back in 2012, not to mention an expensive one. In New York, which makes up an estimated 17% of Instacart's sales according to e-commerce research firm Slice Intelligence, Instacart began hiring workers as employees in August. In theory, this should help the company reduce the costs of churn, but it also means Instacart could lose more money when business lags. When I spent time with Amanda during her shift at a Whole Foods in Manhattan on a recent Saturday, for example, she filled three orders over two hours, but also had a 30-minute period where no requests came in. Instacart paid her an hourly rate of $14.50.

Another New York shopper I spoke with, who asked to remain anonymous, said shoppers feel as though Instacart is trying to thin out its in-store workforce. That certainly seems like the subtext of the policies the company distributed and asked employees to sign at its mandatory meetings last month. The disciplinary protocol—a warning for the first violation, four weeks' probation for the second—gives Instacart a quick path to firing people, or at least encouraging them to quit.
Instacart told Quartz in a statement that it is "not looking to reduce our staff in New York." It said business in New York is "strong" and "more than tripled" during 2015. Instacart did not respond directly to a question about whether it had suspended one-hour delivery in New York, writing instead that "delivery options may vary slightly to allow for more availability for our customers." Instacart has yet to remove one-hour delivery from the pricing options it lists for New York online.
Elsewhere in the country, Instacart's attempts to trim costs are more transparent. The company has recently emailed many of its full-service shoppers, who still work as contractors, about cuts to their per-order pay. Shoppers in the San Francisco Bay Area, for example, now earn a base of $10 (down from $15) for each order from Costco and $7.50 (down from $10) for ones from other stores, according to an email Instacart sent on March 4, and which was obtained by Quartz. Instacart told shoppers in the email that these changes "are designed to help you become more efficient and, therefore, earn more."

An oft-repeated adage in tech is that the smartphone will make anything available at the touch of a button. A private car ride. A gourmet meal. A laundry concierge. A bag of groceries.
But what if some industries—grocery included—just don't fit the on-demand model? Webvan's spectacular failure predated smartphones, but there are other examples. Amazon, a company famously unafraid to lose money on big ideas, has struggled to get its next-day grocery service, Amazon Fresh, off the ground since 2007. Craig Jelinek, CEO of Costco, once said he didn't know how anyone could do same-day grocery delivery profitably.
In an interview with CNBC's Jim Cramer last April, Mehta argued that the barrier to on-demand grocery has always been about technology. "The fact is that's never been able to be done before," Mehta said, but smartphones have created "this huge pool of crowdsourced labor that is available and enabled to be able to pick and deliver the groceries. So that's why this is now possible."
Maybe it still seemed possible to Mehta then, but a lot has changed for his company in the months since. While many startups "pivot," Instacart's turn—shifting its contractors to employees—removes one of the core idiosyncrasies that might have made its Uber-for-X model viable. On a fundamental level, the Instacart that wowed investors and sped to a $2 billion valuation no longer exists. Perhaps it never did.