Siri, however witty her off-the-cuff remarks may be, is generally not very helpful. She often can't understand what you're asking her, can't take dictation without making bizarre mistakes, and often gives the exact opposite of the information you're after. But there's a new voice-based assistant, called Hound, that actually might not drive you crazy, and may offer a glimpse of how we'll control internet-connected devices in the future.
SoundHound, the company behind the eponymous music-recognition app, has spent 10 years perfecting the technology that allows it to identify any piece of music. And during that time, it also built out that software to form the backbone of its new app, which it first announced in December. Starting today, Hound is available for iOS and Android devices.
Like Siri, Hound has a plethora of plugged-in services that allow it to do more than just look up the answers to random questions. SoundHound has partnered with AccuWeather for weather information, Expedia for flight and hotel bookings, Yelp for restaurant information, and Uber to book rides right from the app. This allows Hound to complete real tasks from within the app without taking your eyes off the book you're reading.
Like a human—and unlike most voice assistants—Hound can remember that you're having a conversation with it. You can ask follow-up questions that don't directly relate to the first, and pull in many of Hound's partner services at once. For example, you can ask it what the weather is in Seattle, then ask it what the weather will be like in three months, and then ask it how to get there from where you are. You can also ask multiple questions at once: Hound should have no problem providing you with a list of places to check out when you ask, "Show me coffee shops that have wifi within walking distance that aren't Starbucks."
That said, figuring out the types of questions you can follow up with takes some getting used to—after I asked who the Yankees were playing next, Hound couldn't handle my follow up question of who would be playing second base; Siri could at least tell me who usually plays second. But when it works, you'll start to wonder why Siri can't remember the last thing you said.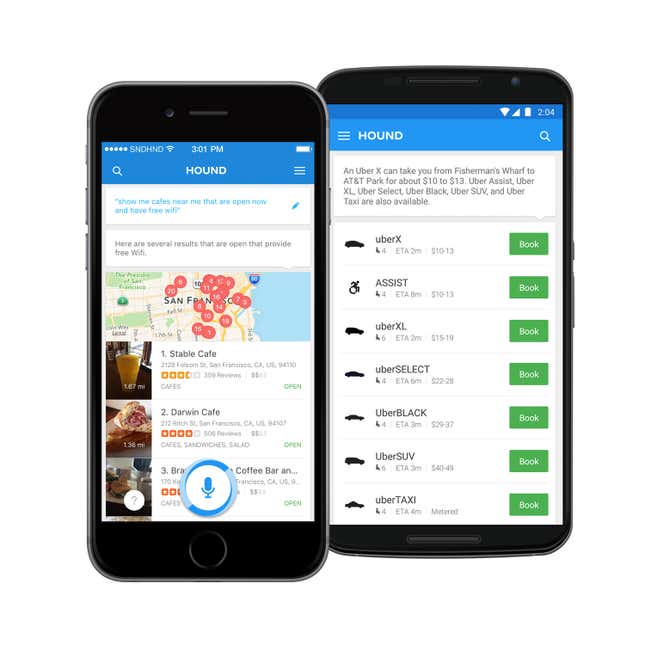 Voice assistants like Siri and Google Now, even when they locate the exact information you want, still often require you to look at your phone's screen to see what they've found. And you're likely to have to poke around with your fingers to get what you need. Hound is different: If you've asked for a list of taco shops in the area, you can follow up with "Which one is the cheapest?" and it'll reorder them by price. You can follow up again with, "Tell me more about the second one," and it'll rattle off prices, its location and hours, and its Yelp rating. You can also ask it to call you an Uber to drive you there, all without touching your phone.
It's even a bit easier to book an Uber through Hound than it is through the ride-sharing service's own app—just tell Hound where you want to go, and it will tell you how much an UberX should cost, how long the trip will take, and when it will arrive—all you have to do is say "yes" after it asks, "Shall I book it?"
Hound isn't perfect, by any means: I asked it some more esoteric questions, and it was even more stumped than Siri tends to be. I asked what love is and got a search result for Huey Lewis & The News songs, and saying "find me cake" gave me one search result for a cake shop 80 miles away in Pennsylvania. But you can say things like, "where can I get a good cheap burger in the West Village" and get decent results with a helpful map. CEO Keyvan Mohajer told Quartz that as more people use the service, and more third-party companies partner with Hound, its results should get stronger.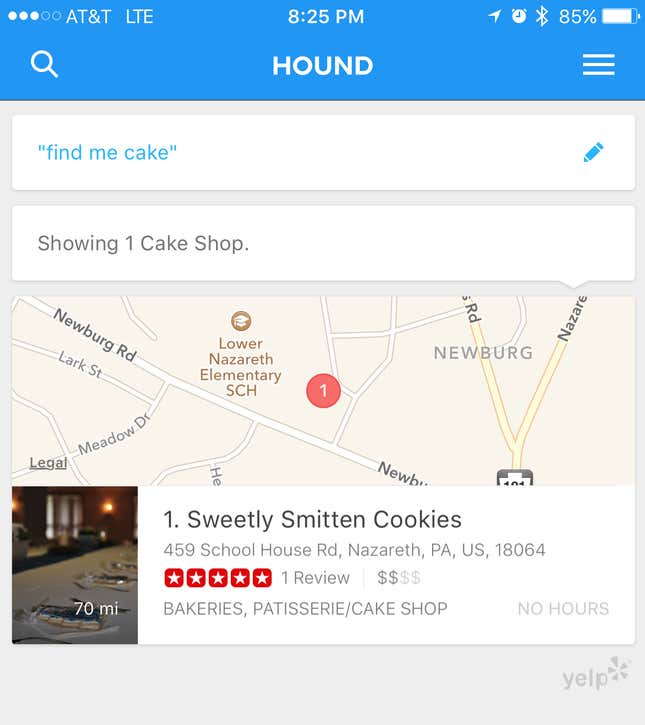 It remains to be seen whether Hound will be able to displace voice assistants built into phone operating systems, such as Siri, Google Now, and Microsoft's Cortana—will people keep using what comes installed on their phones out of sheer inertia? But Mohajer said Hound is really just one piece of a much bigger plan to figure out how we'll interact with everything in our home in the future. "Everybody keeps talking about [the Internet of Things] and everything's going to be connected, but how are we going to interact with these devices?" Mohajer said.
Hound is based on Houndify, the company's language understanding engine, which it's offering to developers. Graphics chip maker Nvidia is already on board to make a heads-up display for cars, and Samsung will implement the engine in its ARTIK platform for Internet of Things devices. Since internet-connected vacuums, toasters, and shoes aren't likely to have screens big enough to type on, we'll need a new way of interacting with such devices.
Mohajer said one day he came into SoundHound's office to find the company's fancy espresso machine missing. Initially thinking it had been stolen, an engineer soon told him he'd borrowed it to rig it with Houndify because there was a particular drink that he could never remember how to make correctly. Now you can just say, "Hey coffee machine, I want a triple espresso, and it says 'Sure, please place your cup on the machine,'" Mohajer said. You can even ask it about the weather, or who won last night's baseball game, while you wait for the coffee.
Who knows—in the future, office chats at the water cooler might be with the water cooler.