Chinese drone maker DJI says it finally has a solution to all those flying drones that keep running into walls. The fourth iteration of its Phantom range has so many sensors and cameras packed into it that it can see its way around the world as it's moving. Phantom 4 may be the first self-flying drone on the market.
In addition to the 4K HD camera mounted on a new, sturdier gimbal, the Phantom 4 has two on the front of the drone, and two on the bottom, that help it "see" the world as it's moving around it, with all the data crunched by the drone's onboard computer.
The last version of the DJI Phantom, released at a press event today (March 1),  has a bigger battery, and even though the drone is packing more sensors, cameras and processing power onboard, it can stay in the air longer—about 28 minutes, compared to the Phantom 3's 23-minute battery life. The new drone can take off quicker, and with a new setting—called "Sport Mode"—it can zip around at up 45 mph. The last drone version was released to similar fanfare last year, and was received then by many as the best drone you could buy.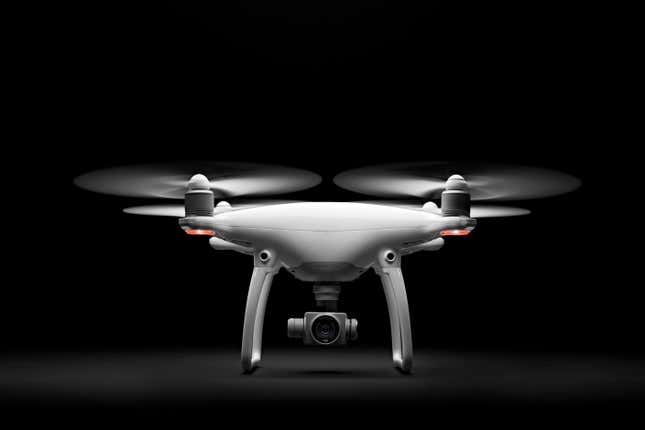 A new function in DJI's latest app, called ActiveTrack, allows a pilot to see what the drone is seeing, tap on a person in its field of view, and have the drone follow the person around. The drone can follow that person as he or she runs around, ducks behind trees and other people without smashing into anything. DJI said it uses a machine learning algorithm to keep the person its following in shot, even when they're facing in different directions.
Another setting, called TapFly, allows pilots to tap on a place to send the drone, and it will figure out how to get there as quickly as possible, and then hover. The Phantom 4 will also not let itself run into walls, even if the pilot tries to crash it into one. DJI told Quartz the drone will just hover slightly away from the wall.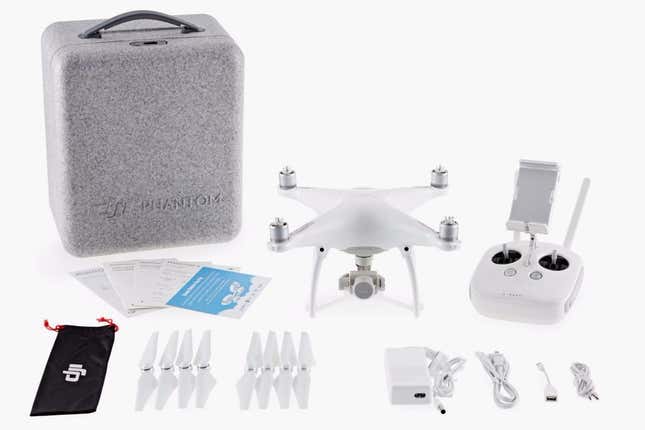 Like previous models, the Phantom 4 can take off and land pretty much on its own. While this isn't quite the self-flying drone that companies like Amazon and Walmart are envisioning—it can't just be ordered to fly to a destination a few miles away and return on its own—it's a definite step in that direction, assuming DJI's homemade obstacle avoidance software works as intended. DJI said it won't work in every possible setting, but should perform adequately in an open field, down a ski run, or anywhere you might want to capture yourself doing something awesome.
The Phantom 4 starts at $1,300 and will be available for preorder on DJI's website later today. It'll be available at DJI's stores, as well as Apple stores worldwide, from March 15. DJI told Quartz that the drone will be the first non-Apple product that Apple will put in one of its "feature bay" display sections of its stores, although that doesn't seem true.
DJI has been compared to Apple for its dominant position in a field it helped create, and with drones exploding in popularity in the US, it's set up to continue capitalizing on its position with yet another upgraded model. That's assuming all is well with the Phantom 4—DJI told Quartz that this is the first of its drones that would be simple enough for anyone to use without formal instruction.
We'll test out that hypothesis when we've got our hands on one.