The Chinese government is not doing anything to prevent gold from being the worse investment of 2013. Today, Yi Gang—he's both the director of the State Administration of Foreign Exchange, which manages China's currency, and a vice governor of the central bank—said the Bank of Chinawill probably keep gold at about 1-2% of its $3.3 trillion in reserves.
"In the last few years, Chinese people's enthusiasm for using gold as a value hedge has been quite high, and everyone's gold investment zeal is also quite high," said Yi, via Caixin (link in Chinese). "In certain circumstances, gold investments should also be an option for the foreign bank. But doing this would require comprehensive consideration."
Here's a chart from economics blogger Scott Grannis on how gold prices have trended relative to buying trends from China's central bank, which we touched on in a previous post: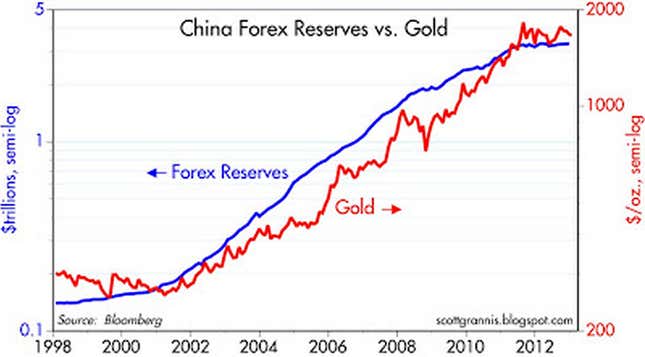 What's the bank's reasoning for shunning the precious metal?
While China produces the most gold in the world, cranking out some 400 tonnes (tk tons) a year, it also imports a couple hundred tonnes extra, making it the biggest importer in the world as well. Here's a look at global supply trends: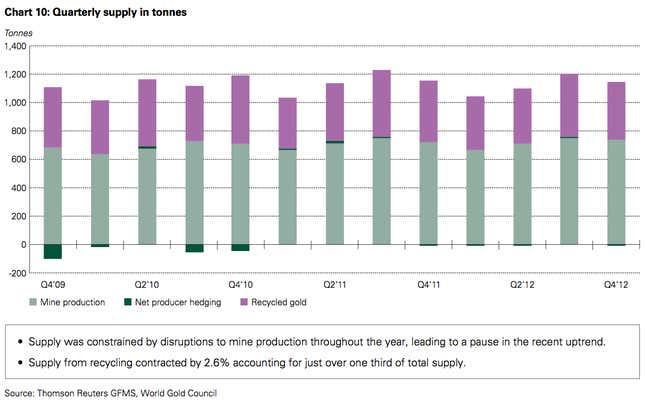 That means that if the government steps up gold investment, it risks driving up prices—something Yi indicated was a concern.
Wouldn't higher prices be good for China's miners, though?
Sure. But there's a bigger consideration always at play in China, and that's inflation. (In fact, it's something central bank head Zhou Xiaochuan bemoaned just worry today.) And with the cost of living soaring and as Chinese people become avid gold-buyers, the government probably doesn't want to inflate its inflation hedge.