France has the lowest proportion of workers who are happy with their work environment, says a new report by office furniture maker Steelcase (pdf), released today (Mar. 1). Indians, on the other hand, are the global leaders in office happiness, with five times as many workers reporting high levels of satisfaction with their workplace and engagement with their companies. They are followed by workers in Mexico, the United Arab Emirates, and South Africa.
Just 5% of French workers surveyed said they were highly engaged and satisfied with their companies and workplaces, well short of the global average of 13%. More than half reported feeling disengaged from their companies. One reason French workers feel that way is because they're bound by rigid notions of how to work. "French employees feel a lack of control over key aspects of their work experience and stress levels run high," the report said.
Some 28% of Indian workers, by contrast, reported feeling highly engaged and satisfied with their work and offices. Nearly three-quarters of Indian workers surveyed said the office made them feel "relaxed and calm," the highest score in the study. What accounts for these overwhelmingly positive workplace sentiments? "For employees in one of the world's most densely populated countries, the workplace can often feel like a haven from the congestion of everyday life at home and on busy streets," the study said. It also doesn't hurt that the Indian economy as a whole is growing, creating a more fluid job market for white-collar workers.
The survey revealed a pattern of generally higher levels of satisfaction and engagement among workers from emerging economies versus developed ones. The report says it could boil down to the fact that some emerging economies also benefit from higher economic growth rates, as in India's case, although it suggests that companies should investigate cultural factors as well.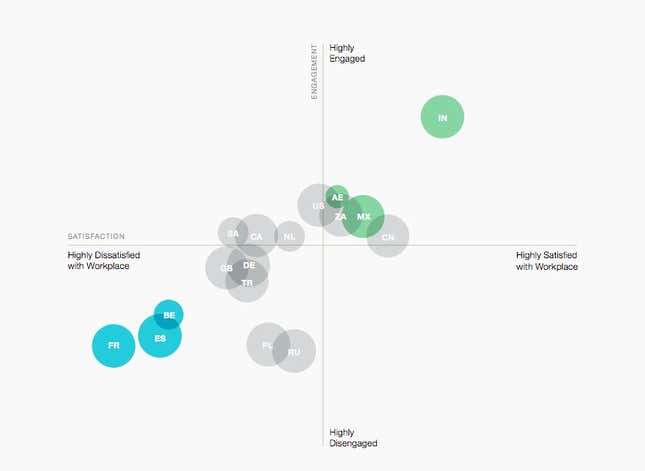 The survey showed that daily office life for most people isn't quite a phablet-enabled, nomadic, lifestyle. Instead, two-thirds of white-collar workplaces around the world still look very much like they did in the 20th century. That means many enclosed private or shared rooms (not open-plan), fixed-line telephones and desktop computers. The higher they sat on the corporate ladder, the more private space workers got.
To influence these factors for the better, Steelcase suggests handing employees more control over their workspaces. That includes being able to move around during the day to pick suitable environments for different tasks and getting access to sports facilities, relaxation areas and sufficient meeting-room space. Perhaps unsurprisingly, the furniture maker also recommends letting workers choose their own office furniture–nearly 30% of workers who did so reported being highly engaged and satisfied.