"Dear little one," the letter begins. "If there's one thing I've realized from my four years at Penn, it's this: You will probably never feel like you have your shit together."
Similarly sparse, frank, and heartfelt are 60 or so other messages in the collection.
"Don't be afraid, it's ok to struggle," one urges.
Another: "Remember that five-to-10-year plan? Screw it. It's not going to happen. You will be infinitely better if you just throw it in the campfire before you leave."
Notes like these comprise Dear Penn Freshmen, an online project launched in February by University of Pennsylvania Wharton School student Lauren McCann. Started as a assignment for a course on organizational behavior, the project—which asks upperclassmen across Penn's undergraduate schools to write letters to their younger selves—drew more than 10,000 unique visitors within 24 hours of going live. Since then, McCann tells Quartz, she's also been approached by students at Brown, Columbia, Duke, Georgetown, and the London School of Economics who want to bring Dear Penn Freshmen to their own schools.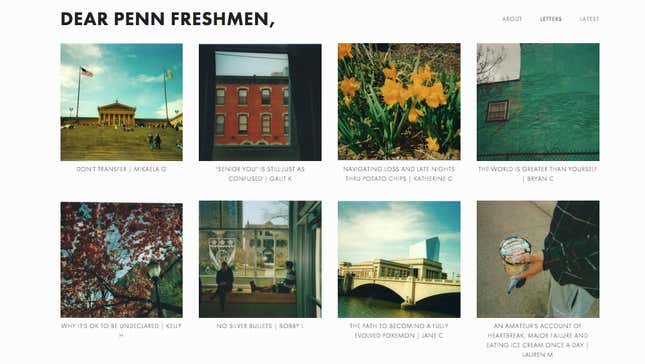 "Particularly at high-pressure colleges, it's so easy to crumble," McCann tells Quartz. "A lot of the time, we talk about mental health and no one wants to come out and say they're dealing with it… One thing that's been really great about the letters is people's willingness to put their name on it."
Dear Penn Freshmen isn't aiming to reform college mental health resources (though such measures may be sorely needed). It simply wants to show young students that falling through the cracks is neither shameful nor uncommon.
Attention, recently, has been sharply rising around mental health-related incidents at US colleges. Ten students have committed suicide in the last three years at Penn; an undergraduate at Yale described being put into a psychiatric ward against her will; students at a slew of other schools have cited high-pressure environments with little support.
Dear Penn Freshmen and other such projects may filled gaps in schools' support networks. "Humbling" has been the reaction to the project so far, McCann says. "At a place like Penn, everyone's always trying to stand out and draw lines from one another, but we're all dealing with a lot of the same issues."
There's "nothing more comforting in the world than hearing 'me, too,' " she adds.