In 2007, when Valentino Garavani left the fashion house he founded in 1959, the label was losing its cachet. It was still red-carpet worthy and an older generation of wealthy women loved its lace and embroidery. But young women kept their distance.
Today, those same young women are mad for the brand. As WWD reported (paywall), the brand's sales grew 48% in 2015 to reach €987 million ($1.07 billion), and it expects the double-digit growth to continue through 2016. Sales have more than doubled from €370 million ($400.7 million) in 2012.
New talent and direction have reinvigorated Valentino. Co-creative directors Maria Grazia Chiuri and Pierpaolo Piccioli took over as creative leads in 2008, nearly a decade after Valentino himself hired the pair to design the house's accessories. The two took the Valentino label from the red carpet to the street while preserving its delicate, romantic ideal—and it's worked.
If there was a major turning point, it was Valentino's fall-winter 2010 show— a ready-to-wear collection rather than couture. It modernized the feminine, romantic Valentino, injecting attitude that appealed to younger women. Chiuri and Piccioli boiled this new Valentino down into a single, must-have product: a high-heel trimmed in metal studs, called the Rockstud.
The Rockstud made it on the feet of celebrities and street-style stars, and the heels continue to sell out.
Valentino returned to profit in 2011 (paywall), and an investment fund linked to Qatar's royal family bought it for a reported $850 million (paywall) the next year. By 2015, Valentino's clothes and handbags had become fixtures on the streets of Paris and Milan.
Chiuri and Piccioli had their early stumbles. Giancarlo Giammetti, Valentino's business partner since 1960 and and the house's co-founder, called the spring 2010 couture show a "ridiculous circus." But the couture business has since flourished. Actress Olivia Wilde's white gown at the recent Oscars was a Valentino couture creation.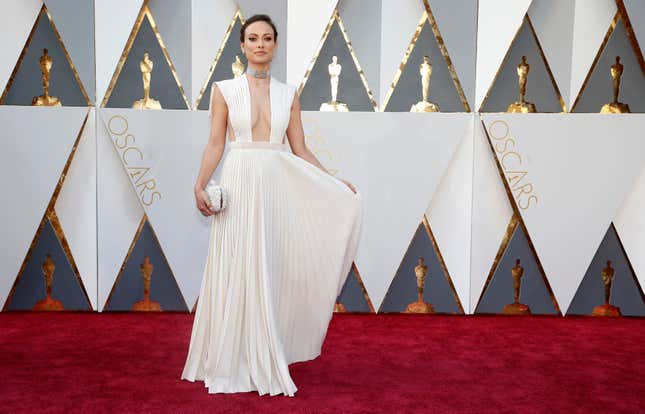 Mayhoola for Investments, Valentino's Qatari owner, targeted the label to hit €1 billion in sales by 2017. Chiuri and Piccioli did it in three. Investors now await an IPO, but executives say that won't happen any earlier than next year.