Better harvests this year and growing stockpiles of grains could bring down global food costs, which are dangerously close to levels that have caused global food price crises in the past. World food prices are not far below what they were in 2008, when the inability to buy basic foodstuffs spurred riots and bans on food exports in Asia, Africa and Latin America in 2008, HSBC said in a research note this week.
Aside from the risk of unrest, elevated food prices squeeze urban residents, especially the poor, and governments who have to subsidize them. The cost of milk around the world has been pushed up because of a drought in New Zealand. In India, the price of onions has jumped. And in China, where people spend up to a third of their monthly salary on food, prices have pushed up inflation, HSBC notes. The US, a major exporter of corn and soy beans, is only now recovering from the country's worst drought since the 1930s. This chart from HSBC shows global food prices, based on data from the Food and Agriculture Organization, a UN agency.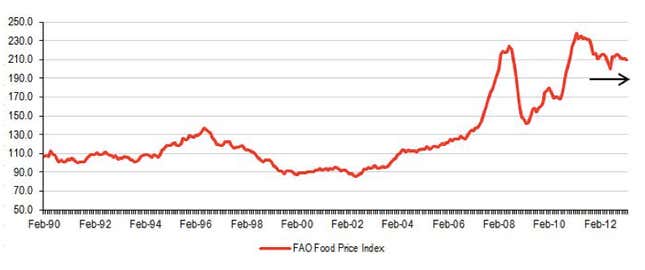 Enter rice, which could ease the squeeze in at least half of the world, especially developing countries, where it is a main food staple. In 2008, the tripling of rice prices exacerbated the food crisis. This year global production is expected to exceed consumption by 11 million tonnes (12 million tons) according to the FAO Rice Market Monitor, because of larger harvests on top of existing supplies. That's putting pressure on exporters and governments to offload their excess. The grain's benchmark price in Vietnam should fall to its lowest level in three years by December, according to a median of trader estimates polled by Bloomberg.
It wouldn't be the first time global production of rice has eased worries over food security. In 2011, prices of rice increased less than other grains, cushioning rising food costs and preventing a repeat of 2008, according to the OECD. Going forward, rice supplies could stay strong as Myanmar starts challenging the world's largest rice exporters–Thailand, India and Vietnam–in an attempt to regain its role as the world's rice bowl. (Today, Myanmar inked a deal to export 5,000 tonnes of rice to Japan.)
Moreover, Thailand is running out of money, and space, to continue purchasing rice from its farmers and keeping it in warehouses. Exporters say the country will have to start selling from its stockpiles, which have doubled in the last two years. Once those are emptied, analysts say, we could see low rice prices for years to come.