Nancy Reagan, the former first lady and wife of the late US president Ronald Reagan, has died at 94 years old, according to her spokesperson. She died of congestive heart failure in Los Angeles, the report said.
Reagan will be buried next to her late husband, who passed away after a long battle with Alzheimer's in 2004. She was perhaps best known during her husband's presidency (1981-9) for her "Just Say No" campaign against recreational drug use, which pervaded US culture in the 1980s. But, as CNN suggested when the former president died, if it weren't for Nancy, "it is possible that the death of Ronald Reagan would have been marked merely as the passing of a Hollywood star from another era."
The daughter of a used car salesman and an actress, Reagan followed in her mother's footsteps and appeared in a range of films in the late 1940s and early 1950s. According to CNN, she had been falsely accused of being a communist and sought help from the president of the Screen Actors Guild—a young actor by the name of Ronald Reagan—in clearing her name. They quickly hit things off, and were married in 1952.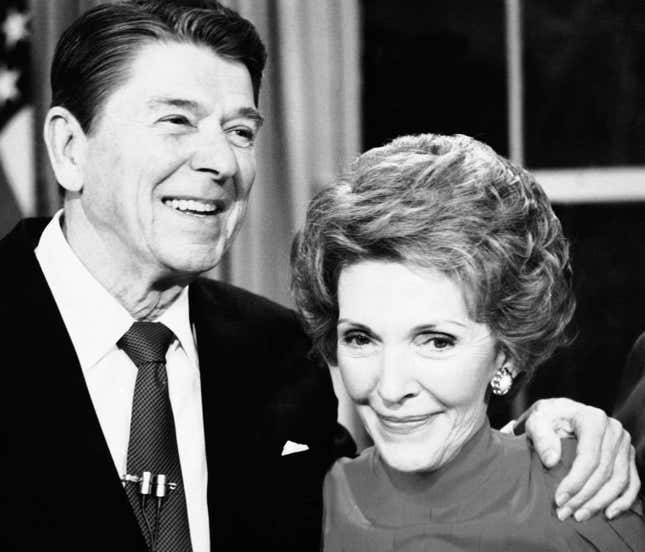 Reagan pushed her husband to pursue a career in politics, becoming a driving force behind his campaigns, and adding a shade of glamor to his candidacy. "She has flair and style, and she won't be like any other First Lady," Bonita Wrather, the wife of Jack Wrather, a Hollywood executive and member of Reagan's campaign team, said of Nancy in the New York Times in 1980.
She was known for her love of the extravagant. When her husband was elected governor of California in 1967, she declared the governor's mansion dilapidated and rented a different house instead. When he was elected president, she wore a $10,000 gown to the inaugural ball, and ordered a new set of presidential china that cost over $200,000—a move that was widely criticized as the US was experiencing a recession, although no taxpayer funds were used to pay for the china. As the New York Times wrote in 1981: "Democratic strategists on Capitol Hill are already planning to use Mrs. Reagan's 'Queen Nancy' image to woo blue-collar voters in next year's elections."
After her husband's passing, she continued to be active with the Reagan Presidential Library and campaigning, unlike many Republicans, for increased stem cell research, potentially as a a cure for Alzheimer's.
Instead of flowers, Reagan asked for contributions be made to the Reagan Library and the Reagan Foundation scholarship program, her spokesperson said.