This post has been updated.
After it was announced yesterday that tennis star and occasional technology spokesperson Maria Sharapova would be making a "major announcement" today (Mar. 7), many surmised that the former world No. 1, after  an injury-plagued showing at the Australian Open, would be announcing her retirement. Instead, she said she failed a drug test at the Australian Open.
Sharapova said at the press conference that since 2006 she had been taking a performance-enhancing drug called Meldonium, a Latvian drug used to help with blood flow in heart disease patients. In January the drug was added to the World Anti-Doping Agency (WADA)'s list of banned substances because there was "evidence of its use by athletes with the intention of enhancing performance." (Other athletes have recently tested positive for the same drug in endurance running.)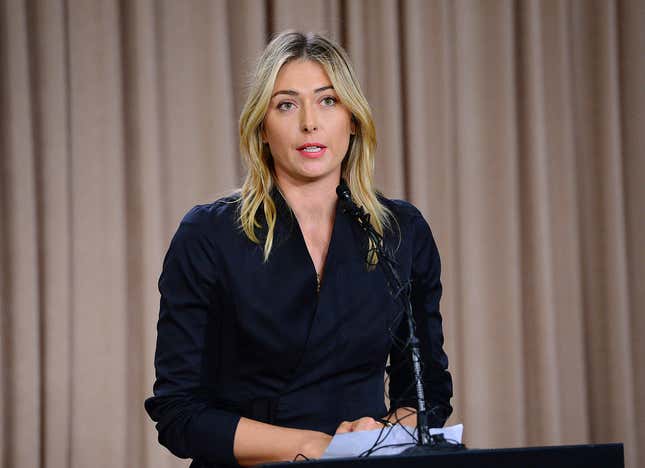 "I received an email on 22 December from WADA about the changes happening to the banned list and you can see prohibited items, and I didn't click on that link," Sharapova said, the BBC reported.
"I failed the test and take full responsibility for that," Sharapova said.
Sharapova, currently ranked seventh in the world, made her big splash in 2004 when she won Wimbledon at just 17 years old. She is the world's highest-paid female athlete, according to Forbes, and has appeared in commercials for seemingly just about everything. She only earned about $7 million in prize money in 2015, but raked in about $23 million more from endorsement deals with companies such as Motorola, Tag Heuer, Tiffany, Gatorade, Tropicana, Nike, and Porsche, to name a few. (For reference, world No. 1 and six-time Wimbledon winner Serena Williams made $24.6 million. Williams has also beaten Sharapova in their last 18 matches.)
Sharapova has been provisionally suspended, according to the BBC, but she shrugged off questions on using the time off she'd get from a suspension to recover from her recent injuries. "I made a huge mistake," Sharapova said. "I know I face consequences and I didn't want to end my career this way. I hope I will be given the chance to play this game again."
Soon after her announcement, Nike suspended its partnership with the tennis star.
The moral of this story: Open those email attachments.
And in the words of the late Nancy Reagan: Next time, "Just say no."
Update 4:30: The BBC is reporting that Sharapova has been provisionally suspended from Mar. 12, pending further action.