Sir Ken Adam, widely revered as among the most influential designers in movie-making history, passed away on March 10 in London. He was 95 years old. The production designer of seven seductive James Bond movies including Dr. No, and Goldfinger, Adam is the only production designer ever to be knighted by Queen Elizabeth.
In a career that spanned five decades, Adam conjured the backdrops for more than 40 films, including Chitty Chitty Bang Bang, Around the World in 80 Days, Agnes of God and even a never-produced Star Wars film called Planet of the Titans.
His favorite project of all, however, was a war room he made for Stanley Kubrick's 1964 comedy noir Dr. Strangelove or: How I Learned to Stop Worrying and Love the Bomb.
With the notoriously perfectionist director hovering behind him, Adam sketched a triangular set with his Flo-Marker felt tip pen. Kubrick saw the concrete-lined brutalist bunker as metaphor for a gigantic bombshell and was instantly sold, recalled Adam in an interview with the Victoria & Albert Museum in 2008.

At the center of the room was a large circular table surrounded by 26 seats for politicians and generals. Kubrick asked that the table, which measured 22 feet in diameter, be covered in a green felt fabric—even though the movie was shot in black and white—to give the feeling that the leaders were gambling with the fate of the world like a high-stakes poker game.
"The vision of the war room was something that I purely invented because I didn't have any real reference," explained Adam. It's likely that he saw architect Arnstein Arneberg's semi-circle design of the UN Security Council Chamber, which was unveiled in 1952, but the sloping ceilings, the dramatic circular chandelier, and the illuminated maps on the wall that required 10 miles of electrical cable were all his.
Since then, Adam's design influence has gone beyond the movie set and has seeped into real-life strategy rooms and negotiation tables. The 2009 G20 summit in Pennsylvania had a similar circular table, and Adam's aesthetic is present in Vladimir Putin's new three-decker military command center, inaugurated last year. In the Bay Area, where other types of negotiations happen, AirBnB even has built mini replica of Adam's war room.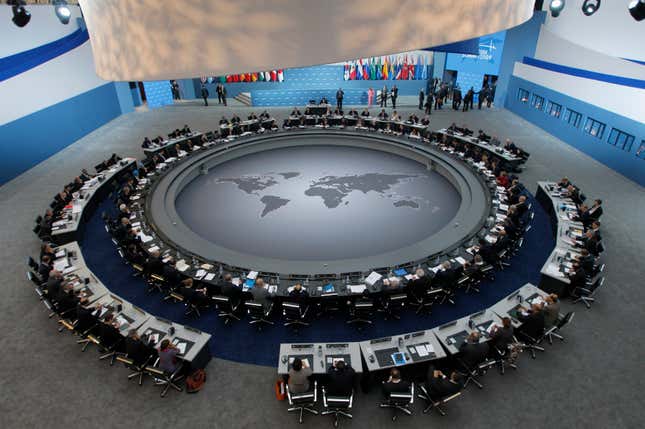 Adam was particularly tickled by the idea that US president (and former actor) Ronald Reagan thought his war room was real. "When Ronald Reagan became president of the United States he asked the chief of staff to show him the war room of Dr. Strangelove," he would often recount. "He believed it was in the Pentagon."