The bigger threat to the US economy is deflation, not inflation. And the Fed seems to have woken up to that fact.
Deflation—the broad-based price declines that cripple borrowers and act as a headwind to economic growth—is a real concern. And it has been a danger since the Great Recession struck. In recent months, the US Federal Reserve has seemed to dismiss indicators that previously would have raised alarms at the central bank. The denials have come even as China's struggling factories have been cutting prices at the factory gate, and the world's largest economic bloc, the euro zone, engages in a running battle with deflation.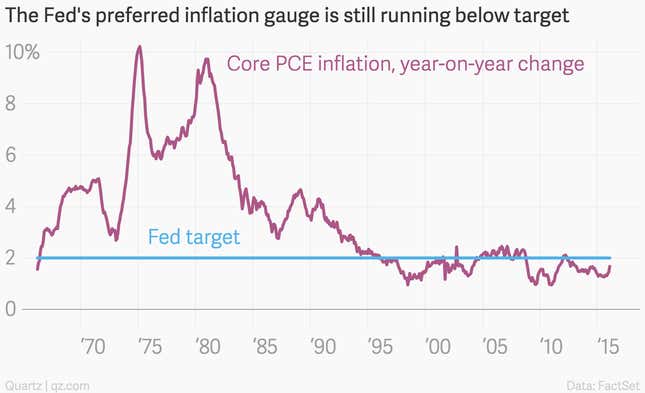 But with today's monetary policy announcement, the Federal Reserve made a pretty clear swing back toward being concerned about persistently low prices. The central bank opted not to raise interest rates and trimmed its outlook for how many more hikes it expected to make this year. (The Fed now sees two interest rate hikes of 0.25 percentage points this year. In December, it forecast four such hikes in 2016.)
In fact, the Fed seemed to downplay the fact that some gauges of inflation, such as the consumer price index, have actually been looking a bit peppy lately. "The stance of monetary policy remains accommodative, thereby supporting further improvement in labor market conditions and a return to 2 percent inflation," the statement said.
This is a decided shift in tone from the Fed, which seemed to be fretting about non-existent inflation in the run-up to its first rate hike since 2006 in December.
This is also a good thing. There is evidence that more people can be drawn into the workforce if the job market is humming along a little bit better.
And since inflation is still low, and inflation expectations are still low, the Fed should continue with its laudable efforts to support the US economy and help American workers.