Basel, Switzerland
If luxury watchmakers are fretting about the 3.3% dip in Swiss watch exports in 2015, they certainly have a funny way of showing it at Baselworld, the international watch and jewelry fair where brands show off their latest designs and technology.
Here, representatives from Fendi talked about raising prices; Hermès showed watches with big cats hand-carved and painted onto their enamel faces; and Chanel launched a collection of timepieces housing tiny sculpted gold birds in their cases. (Starting price: $200,000.) Brands use these ultra-expensive, super limited-edition watches to tell their stories at Baselworld: Hermès showcases the artistry prevalent in its famous scarves, Chanel's motifs hearken back to Coco's original apartment furnishings, and so forth.
On Quartz's first day at the fair, perhaps none of these marquis mega-watches blew our minds quite like the Ulysse Nardin Grand Deck Marine Tourbillon: a high-tech tribute to the 170-year-old Swiss watchmaker's nautical history. (Ulysse Nardin launched in 1846 and made its name manufacturing marine chronometers: highly accurate watches designed for keeping time at sea.)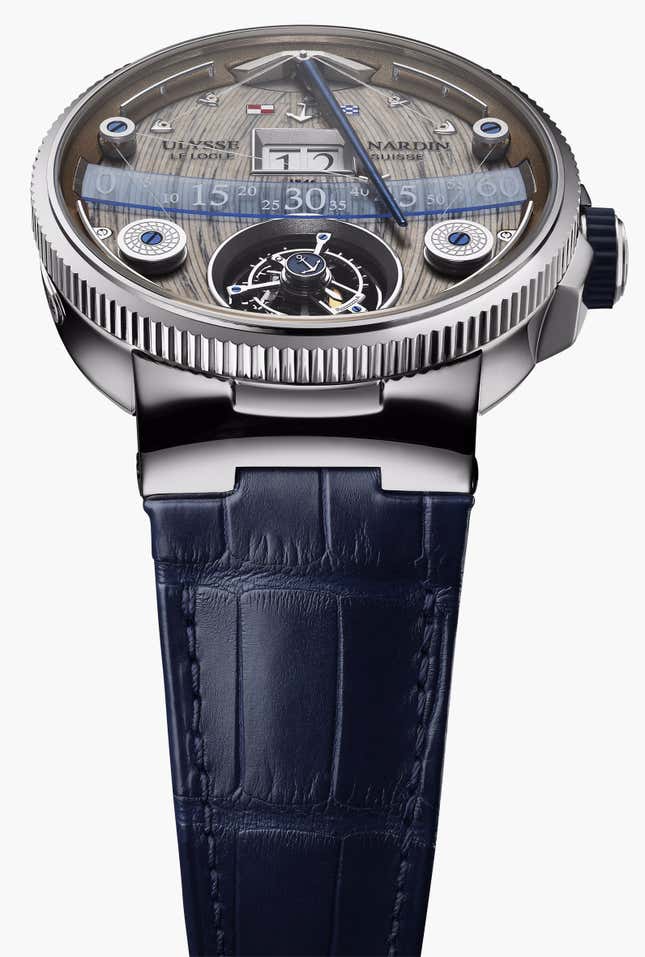 The Grand Deck might border on kitsch were it not for its respect-demanding engineering and  "complications"—those features watch nerds go nuts for. These go far beyond its 60-second flying tourbillon and a skeletonized barrel, through which the wearer could monitor his or her chronometer's many parts in action.
On the watch's dial, four little silver pins function like winches (those metal spools you use to crank in the sails) pulling the boom—the pole at the foot of the sail—across the watch's face over 60 minutes. Every hour, the watch's "boom" swings back across the its face. (This is the point on an actual boat when you yell "Jibe ho!" or at least politely tell everyone to watch their head.) The dial, made of teeny-tiny strips of inlaid grey oak, looks like a miniaturized boat deck.
At $280,000, it's at least cheaper than an actual yacht and probably requires far less maintenance.