One of the biggest gripes about Apple's newer phones is that they're so big that they're difficult for many people to use with one hand. That has, at least in part, kept a significant number of people from upgrading. In January, CEO Tim Cook revealed on Apple's earnings call that 60% of iPhone owners hadn't updated to larger phones since the launch of the iPhone 6 and 6 Plus. Today, iPhone owners with normal-sized hands can rejoice: Apple announced an updated version of its smaller iPhone 5S model at an event today at its headquarters in Cupertino, California.
The new phone, called the iPhone SE (short for "special edition"), looks pretty much identical to the iPhone 5S that Apple launched in 2013, with sharper edges and a smaller body than the phones the company has been releasing in the three years since then. The layout also matches the older phone: The power button is on the top (as opposed to the side) and there's no protruding bump for the camera on the back on the phone.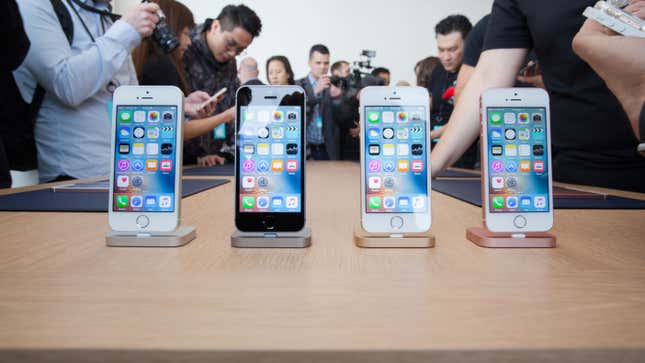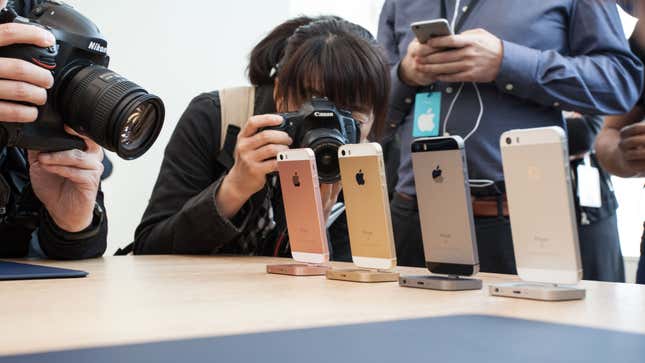 But on the inside, the phone is packed with modern features. The SE comes with the same A9 processor found in the 6S, meaning it can handle the always-on "Hey Siri" function, as well as an NFC chip for Apple Pay. It also has a 12 megapixel camera and can shoot 4K video, and will ship with iOS 9.3, the latest version of Apple's mobile operating system, which the company announced today.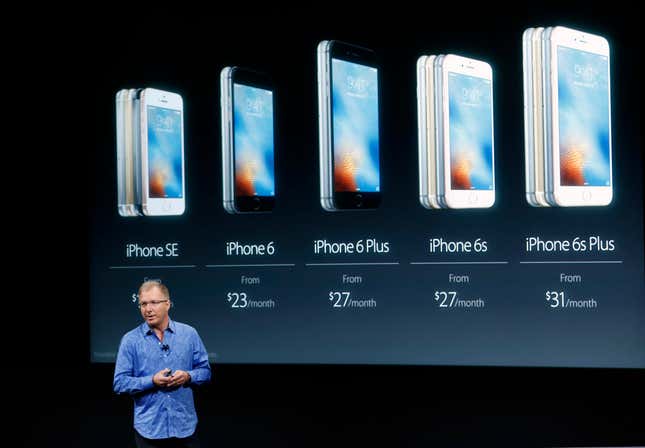 Apple's first deviation from the number-then-S phone-release cycle that it's been on since 2008 was the iPhone 5c, which it released in 2013, along with the 5S. The colorful plastic phone was meant to be a cheaper, more accessible model, but didn't prove to be much of a hit. The iPhone SE starts at $399 and will be available for preorder from Mar. 24. It starts shipping Mar. 31 and will be available in 110 countries by May. But while this new phone will be a cheaper model than Apple's current flagship devices, it's not that much cheaper. Still, it will likely be a welcome edition for all those who don't want to stretch out their fingers to use their phone.