A self-made Chinese cyber celebrity popular for satirical videos has secured 12 million yuan ($ 1.85 million) in funding, a sign that China's domestic investors are willing to pay up for original content on social media.
Nicknamed "Papi Jiang," the graduate student from Beijing's Central Academy of Drama has become one of China's most popular social media stars in recent months. The 29-year-old Shanghai native is well known for her humorous videos mocking everyday life, relationships, movies, and social issues.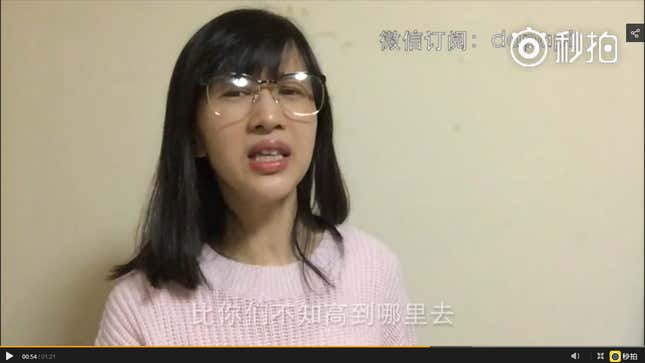 She makes fun of women who always find a reason to go shopping, except when their hair is not washed; she asks the WeChat team to develop a function that automatically "likes" posts of one's parents and boyfriend or girlfriend; she wears a pair of wide frame glasses to mimic former president Jiang Zemin's angry response during a 2000 press conference.
Papi Jiang is the opposite of many of China's look-alike "sexy" female internet celebrities who use surgery-enhanced selfies to peddle everything from food to fashion, and sometimes veer into soft porn territory (paywall). She always wears light makeup, dresses in everyday clothes, and never hides the clutter at her apartment, from an empty plastic bottle to sneakers on the table. While she's sometimes described as "China's Sophie Marceau," she's better known for her impressions than her looks.
Here's a video of her mimicking a gossipy Shanghai woman talking in a mixture of Shanghai dialect, English and Japanese (Japanese and the Shanghai dialect sound similar).
"The fact is on the table, only you are blind," she says, trying to persuade her friend on the other end of the phone to give up on her unfaithful boyfriend. "What do you mean by potential? Is he hired by Morgan Stanley? No!…So you can't control yourself just for an ordinary playboy?" she says, and shakes her head.
Since last September, Papi Jiang has posted more than 40 videos via Chinese video portals and social media platforms including Weibo and WeChat. She has eight million followers on Weibo (link in Chinese, registration required), and her video posts often draw ten of thousands of re-posts and comments. (In comparison, one of the most popular foreign celebrities on Weibo, NBA player Kobe Bryant, has four million followers.) She also has a YouTube channel with 19,000 subscribers.
This week, four investors—including big-name venture capital firm Zhenfund and popular social media talk show Logic Thinking—put up 12 million yuan for a 12% "share" in Papi Jiang, according to Tencent. An auction for the first ad in Papi Jiang's videos will be held in Beijing on Apr. 21, with an entry fee of 8,000 yuan for a limited 100 bidders (link in Chinese). The event will be the first ad auction for China's social media, the investors said.
Up until now, Papi Jiang doesn't appear to be making much money from her work, except though WeChat's tip function—a "like" button with cash attached through which viewers of each WeChat post can give the writer from 5 yuan to 200 yuan as a tip. Her latest WeChat post, a video mocking office gossips, got tips from nearly 3,000 viewers. "I heard she had slept with President Chen," she says as one female white collar. "Hmm, I wondered how she entered the company!" she replies as another.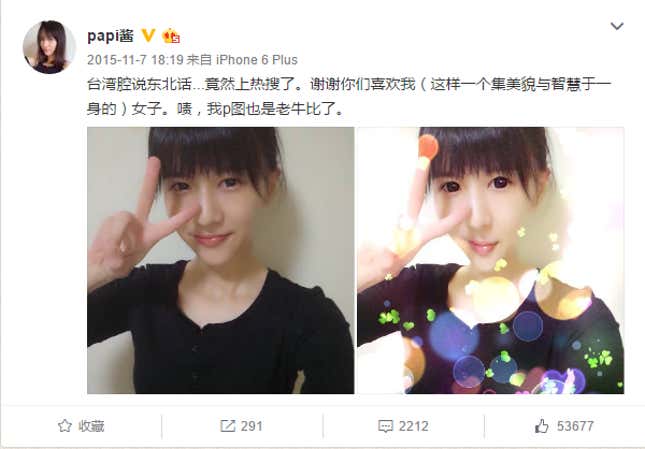 Papi Jiang says she produces all her videos herself. They are simple—a talking head chattering for around two minutes, with some easy cuts and subtitles. She ends her videos by saying "I'm Papi Jiang, a woman who combines beauty and talent."
They resonate in China because she closely follows the hottest social trends, from Alibaba's shopping carnival to the Oscar awards. She celebrates holidays with her unique mockery.
At the end of 2015, her new year's resolution was to make none. "Do you remember the resolutions you made in 2013 that you want to accomplish in 2014 but haven't realized in 2015?"
During the Chinese Lunar Year week, she taught her audience how to hit back at bossy relatives: "Hey cousin, when I look at you, I understand why your kid is so annoying," she suggests, or "Auntie, sorry for making you worried. I'll get married as soon as possible. You must live till that day!"
On Valentine's Day, she mocked couple's annoying behavior, from feeding each other in restaurants to sharing sexual experiences, then ended the video by saying "I never show off my relationship" and flashing her ring finger with a big wedding ring on it.