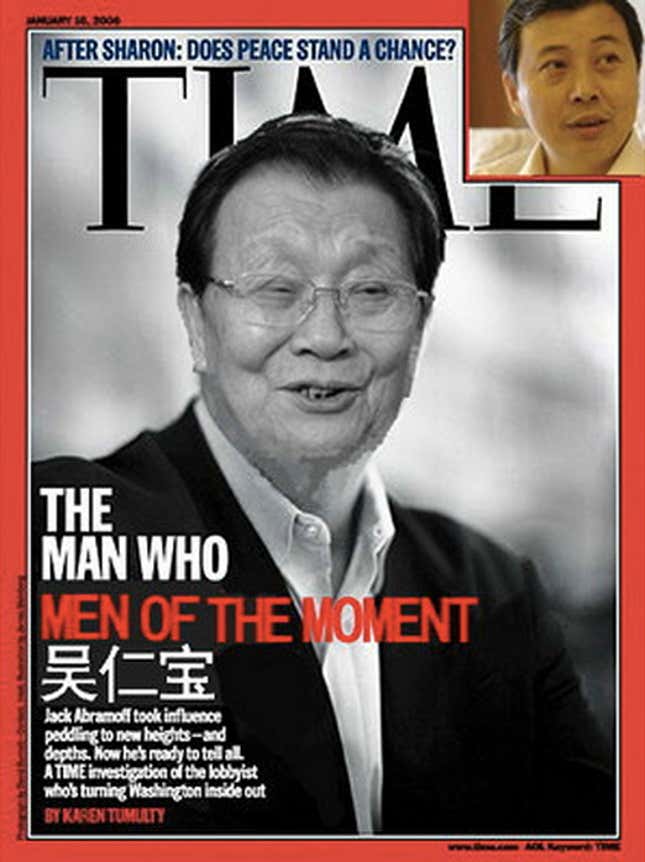 This item has been corrected.
As Chinese media blog Danwei reported, Chinese media today was awash with covers commemorating "China's most famous peasant," a local official who passed away on March 18 (article in Chinese) from lung cancer. As party secretary of a village in Jiangsu province, Wu Renbao pioneered an investment redistribution plan that added skyscrapers and luxury hotels to the village skyline, shaping the town of 35,000 into what's commonly known as "China's richest village."
And that makes Wu a cover boy for the type of redistributive economic policies that China's new government, which officially took the helm just days ago, has vowed to champion. Cue the fawning obituaries.
But those were nothing compared to the mark the provincial leader left overseas, according to state-run Xinhua. As it reported today, Wu graced the cover of Time Magazine in 2005 (link in Chinese, photo above).
Neither Time nor journalist Karen Tumulty probably realize they once celebrated Wu Renbao in a cover story, "The Man Who Men of the Moment." And, as Danwei pointed out, despite Xinhua's authority as the party's mouthpiece, some incredulous bloggers (link in Chinese) on microblogging site Sina Weibo smelled a rat, noting that the image appeared to be "PS"-ed (Chinese internet slang for "photoshopped"). Digging deeper, Chinese internet sleuths finally found the true owner of the body with the spliced-on Wu head: American lobbyist Jack Abramoff.
But that didn't stop Chinese media from around the country, which are instructed to follow Xinhua's lead on certain stories, from faithfully reporting Wu's global renown.
China's state media has had its fair share of embarrassment. Last year Xinhua's news website published a 55-image photo series in honor of the "Sexiest Man Alive" distinction conferred to North Korea's young leader Kim Jong-un by…The Onion. Xinhua later deleted the story.
Correction (March 21, 3:08 p.m. ET): This article has been corrected in two places to give Danwei credit as the source of the information.