In 2013, Snapchat reportedly turned down $3 billion to be acquired by Facebook. Now, the ephemeral messaging app startup, which has since been valued at $16 billion, and is aiming for $300 million in revenue this year, has announced updates to its service that position it to more directly take on Facebook's apps.
Snapchat said today that it has rebuilt the chat section of its app, which now feels a lot like Facebook's Messenger and WhatsApp apps. Users can now send stickers, photos, short video messages, and start voice calls to their contacts within Snapchat. To start a chat, users swipe right on their contacts as they did before, but they're now greeted with a range of options:
Previously, users had to navigate Snapchat's notoriously confusing interface to figure out if their friends were online and available to video chat. Now, they just press the video icon. You can tap it to record a short note, or hold it down to start calling.
And users can now receive video calls but choose not to show themselves, with a new feature, voyeuristically called "watch."
There's also a host of sticker images users can send to contacts, which will be eminently familiar to anyone that uses Facebook Messenger:
And the end result is a chat interface that looks a lot more like its competitors':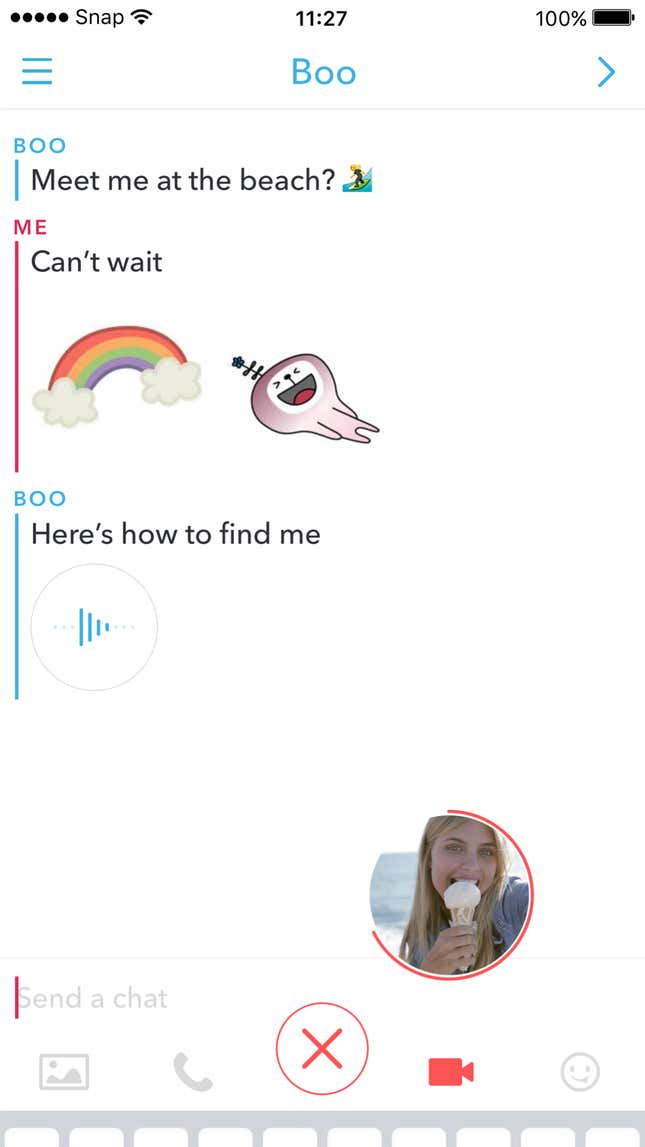 With the new update, which Snapchat announced in a blog post, there's a lot more signposting to guide users. For example, if you want to send a friend a picture, you press the picture icon; if you want to make a voice call, you press the telephone icon. This could perhaps be an indication that Snapchat is trying to make its messaging service feel less exclusive—and easier to use—as it aims to directly take on social messaging competitors like Messenger and WhatsApp, both of which have over 1 billion daily users. (Snapchat reportedly has about 100 million daily users.)
Snapchat told Quartz that the updates to its app have been submitted to Apple's App Store and should be available in the next few hours, and that the new chat function will also be coming to Android.